Robert Hubert Savery
February 1 1902 - January 21 1980
Federation of Canadian Artists (Founding Member 1941)
American Institute of Landscape Architects (Charter member)

Robert Savery was born in "the South country of England" in 1902 (Halstead, Essex). He was a pupil of St. Paul's School in London, England, and a student of A. Gilbert, Harry Roundtree the animal illustrator, and P.V. Bradshaw. He studied for six years at the Museum of Natural History, and the Zoo, London. He specialized in animal and plant painting, in watercolour, oil, black and white, as well as wood carving.

Savery immigrated to Canada in 1924, where he married Margaret Henderson in Toronto in June 1930. They had at least two sons, Robert James Savery was born in Hamilton, Ontario on December 4, 1931, and died in Courtenay on September 5, 1990. Maynard St. John Savery was born in New Westminster on December 29, 1934 and died in Keremeos on January 29, 2018.

After coming to B.C. he exhibited his work in a number of the B.C. Artists exhibitions at the Vancouver Art Gallery, from 1936 to 1941, 1943, 1944, and in 1946. He was living in Duncan in 1941 where he was teaching school, and Victoria in 1944, but a later exhibition entry form showed him living in New Westminster.

A letter of support dated April 1937 that Savery wrote to A. Savell Grigsby at the Vancouver Art Gallery noted that he had had a solo exhibition "in the east some years ago." In 1937 he and his first wife were living at 31 Dufferin, New Westminster.

Savery had a solo exhibition of his bird and animal illustrations at the Vancouver Art Gallery in 1936. The letterhead of his cover letter to the Gallery for the exhibition noted that Savery was a Landscape Architect, specializing in landscape design and garden architecture.

In 1941 he was employed as an Instructor of art and applied arts for the B.C. Department of Education, he was teaching at Duncan.

He also exhibited his work in the 1945 British Columbia At Work exhibition at the Vancouver Art Gallery.

A 1951 article for Savery's exhibition at the Provincial Museum noted that he had been the "cover artist for "Rod and Gun in Canada"" for the past three years, in addition to illustrating articles by himself and others. His work was also published in magazines including The American Home, Color in the Winter Garden, and Colorful Gardens.

Savery was the chief landscape designer with the provincial Department of Public Works in the 1950s and 1960s, and designed the garden and forecourts for the Provincial Museum and Archives in Victoria in the mid-1960s. (info courtesy Dr. Patrick Dunae)

In 1966 he designed the Centennial Fountain at the Vancouver Courthouse which was later removed in 2014. Eve Lazarus noted the fountain in her blog (see link below):
"The Centennial fountain was a $45,000 gift to the City of Vancouver. It featured a 4.8 metre marble sculpture designed by artist Alex von Svoboda, blue and green mosaic tiles with colours that changed at night, and pumped out over 1.3 million litres of water an hour. The local artistic community were outraged and said the government should keep out of the fountain business and put all public art to a competition. "[Government] employees aren't qualified to design works of art or sculpture. They are incompetent in these fields of art," said Frank Low-Beer, chair of the community arts council committee."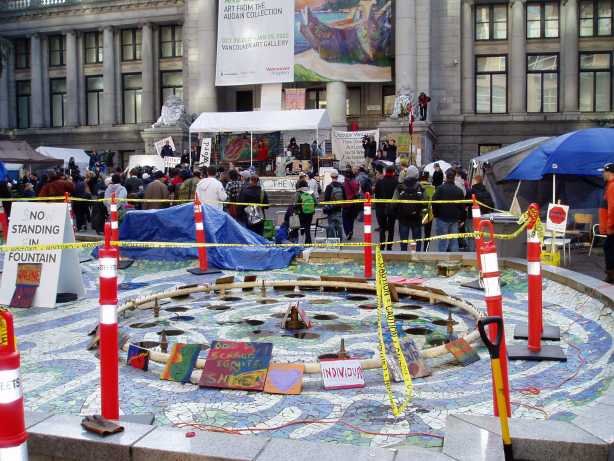 Partial view of fountain during "Occupy Vancouver" 2011. Photo Gary Sim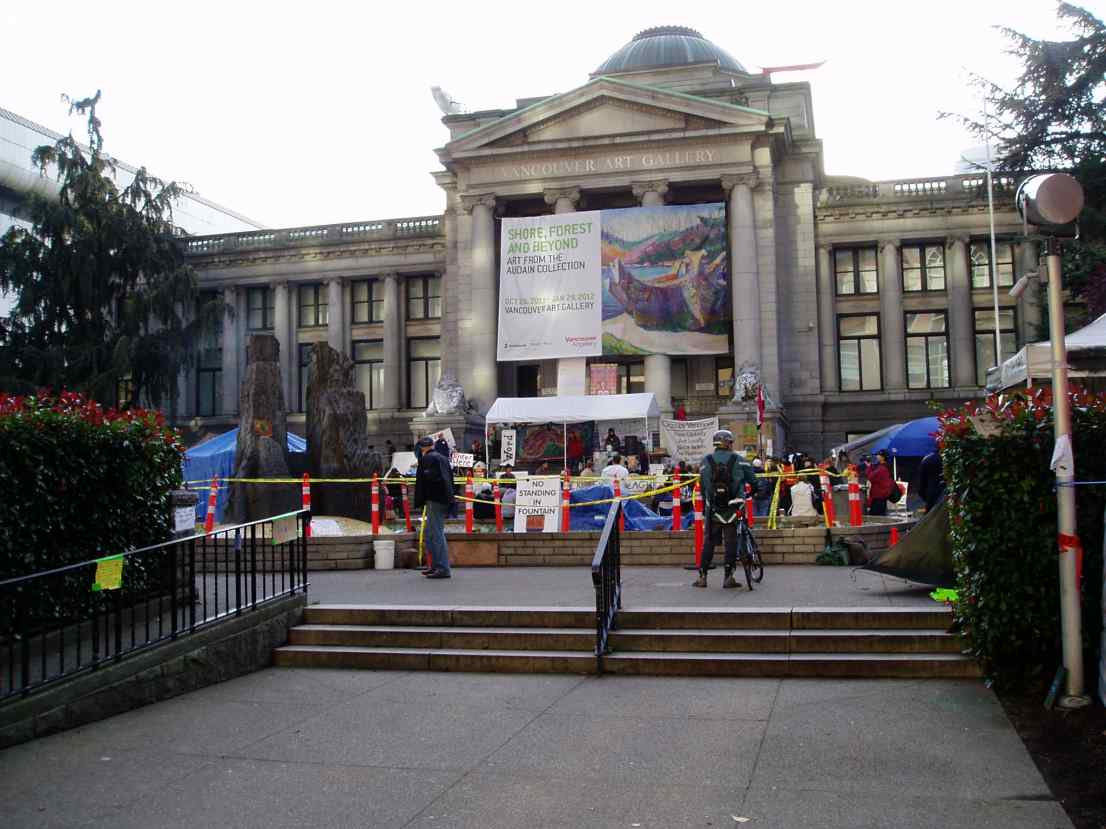 Partial view of fountain during "Occupy Vancouver" 2011, Svoboa sculpture rising on the left. Photo Gary Sim

Savery died in Victoria in 1980, at the age of 77.
Exhibitions
SOLO EXHIBITIONS
GROUP EXHIBITIONS

DATE
EXHIBITION
ARTWORK
1936 Sept. 18 - Oct. 11
VAG B.C. Artists 5th Annual
Industry, Fraser Mills, B.C.
1936 Dec. 8 - 20
VAG Christmas Black & White Exhibition
Spires - Holy Rosary
1937 Sept. 17 - Oct. 10
VAG B.C. Artists 6th Annual
Sea Fantasy
"Mid Strange Plants Were Weird Creatures"
1937 Oct. 20 - 25
Vernon B.C. Artists 6th Annual selections
(later to Kamloops, Edmonton)
Sea Fantasy
1938 Sept. 16 - Oct. 9
VAG B.C. Artists 7th Annual
Evening in the High Hill
1939 Sept. 15 - Oct. 8
VAG B.C. Artists 8th Annual
Hamadryas
1940 Sept. 20 - Oct. 13
VAG B.C. Artists 9th Annual
River's Source
1941 Sept. 26 - Oct. 19
VAG B.C. Artists 10th Annual
Forest Friend
M.S. Cornival
1942 Nov. 3 - 15
FCA Red Cross Benefit
(no information available)
1943 Sept. 25 - Oct. 20
VAG B.C. Artists 12th Annual
The Home of the Great Manitou
1944 Sept. 23 - Oct. 22
VAG B.C. Artists 13th Annual
The Isle of Cormorants
1945 Nov. 13 - Dec. 2
Labour Arts Guild B.C. At Work
Welders, B.C. Shipbuilding
Commercial Fishers
1946 Sept. 21 - Oct. 13
VAG B.C. Artists 15th Annual
After the Storm
Coast Deer
References
WHO'S WHO IN NORTHWEST ART (refer to WWNA41)
SAVERY, Robert Hubert, Ypres St., Duncan B.C.
Painter (water colour; oil, black and white); Wood carving; Teacher - Born England, Feb. 1 1902. Pupil of St. Paul's Sch., London; A. Gilbert; H. Roundtree; P.V. Bradshaw. Six years study at the Mus. of Natural History, and the Zoo, London. Specialty: Animal and plant painting. One-man exh.: Vancouver Art Gallery, 1937, 1938. Exhibitor at B.C. Artists' Exh., Vancouver, 1936-1938; Black and White Exh., Vancouver Art Gallery, 1936. Represented Eastern Canada in the Jubilee issue, British Inst. of Landscape Architects, Journal, Spring 1937. Instructor of art and applied art, B.C. Dept. of Education.

B.C. ARTISTS' TRIBUTE TO COLIN GRAHAM (refer to AGGV74)

A GUIDE TO SCULPTURE IN VANCOUVER (refer to GSV80)

ARTISTS IN CANADA 1982 - UNION LIST OF ARTISTS' FILES (refer to AIC82)

BIOGRAPHICAL INDEX OF ARTISTS IN CANADA (refer to BIAC03)
1 reference cited for Savery: WWNA above.

PUBLIC ART IN VANCOUVER - ANGELS AMONG LIONS (refer to PAV09)

VANCOUVER PUBLIC LIBRARY - B.C. ARTISTS FILES (refer to VPL)

https://evelazarus.com/tag/robert-savery/

https://aggv.ca/emuseum/people/4155/robert-h-savery;jsessionid=F55C20E63EF8647E62F677B66E758E57/objects

https://www.genealogy.com/forum/surnames/topics/savery/265/

http://assets.yukonarchives.ca/Old_Log_Church_Newsletter_2008_Summer.pdf

Robert H. Savery (1902-1980) - An appreciation by Patrick A. Dunae, Victoria, November 2022
Clippings
"Robert H. Savery's "Spires - Holy Rosary" ... would look well in a home."
From "Buy a Picture for Christmas"
Vancouver Sun, December 1936

"Exhibit of Animal Art Here Praised"
Vancouver Sun, May 16 1939

"Realism Depicted"
Vancouver Sun, May 17 1939

"The present show will consist of drawings of animals in black and white."
Art Gallery Bulletin, Vol. 6 No. 9, 1939

" ... Among those contibuting paintings and drawings are: ... R.H. Savery ... "
From "Noted Artists Offer Paintings For Red Cross" Vancouver Daily Province (presumed), November 1942

"Art Show Depicts Wildlife"
The Daily Colonist, May 19 1951

"Fine Work by Victorian On Display at Museum" by John Kyle A.R.C.A.
The Daily Colonist, May 23 1951

"Artist Displays Striking Works Of Wild Animals"
Victoria Daily Times, May 26 1951

"Sunny French Vineyards Gave Artist Inspiration" by Merriman
Victoria Daily Times, June 23 1951

"Robert Savary (sic) et la joie de peindre" by Henry Asselin
Le Devoir, Montreal, April 9 1957

"Fountain Fury Flows"
Montreal Gazette, June 20 1961

Savery obituary
Vancouver Sun, January 23 1980




HOME