Gordon John Munro
April 14 1916 -

Gordon Munro was born in Victoria in 1916, moving to Burnaby with his parents when he was 10. He attended the Vancouver School of Decorative & Applied Arts in the early 1930s, going to school with students such as Molly Lamb and E.J. Hughes. When Frederick Varley and Jock Macdonald left the art school to form the B.C. College of Arts, Ltd. in 1933 Munro went with them and became a founding student at the new school.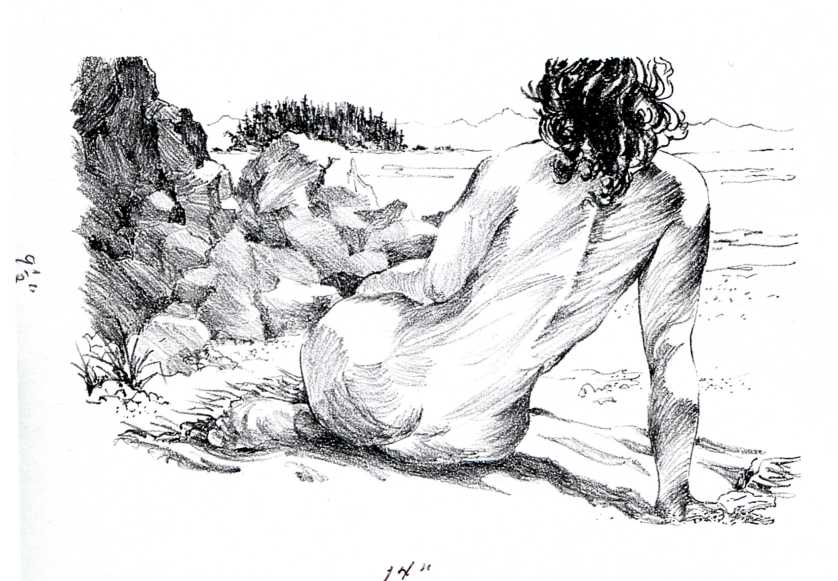 Untitled - female nude on beach (stone lithograph)

Munro was an apprentice at an art studio at Hamilton and Pender where Varley gave life drawing classes once or twice a week, and was class monitor for Varley, cleaning up after the classes. Munro became a watercolourist, although he tried other mediums.

He exhibited his artwork in the B.C. Artists annuals at the Vancouver Art Gallery from 1938 to 1943, and in 1945 and 1947.

He exhibited in the Seattle Art Museum's annual Northwest Artists exhibition in 1941.

His artwork from the 1942 B.C. Artists annual exhibition was shown in an Army exhibition in Ottawa, and the show also travelled to the USA. (conversation with the editor)

The painting titled "Thelma" exhibited in 1943 was a portrait of the artist's first wife (interview with editor). He had a duo exhibition with Joe Plaskett at Plaskett's mother's house prior to World War II. He was in the armed forces during World War II, holding the rank of Private in 1941, Corporal in 1943, went overseas as Staff Sergeant, but was discharged in 1946 with the rank of Corporal again due to a "desire to get out of the service". Munro worked as a commercial artist for advertising agencies before and after the war.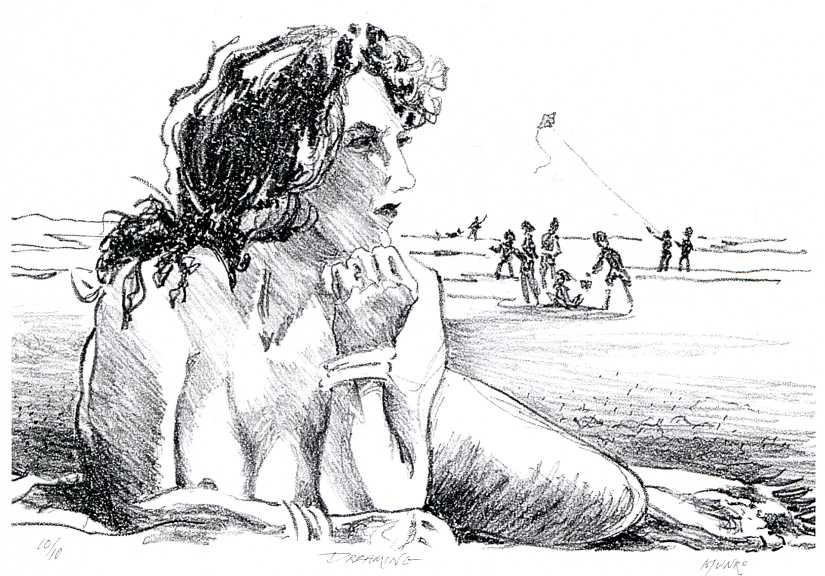 "Dreaming" (stone lithograph)

Munro won a Beatrice Stone prize in one of the B.C. Artists exhibitions, and also two honourable mentions in Seattle at the Pacific Northwest Artists exhibitions. He retired as a commercial artist in 1976. He was a member of the Federation of Canadian Artists for a number of years, and was exhibition chairman for a while in the 1970s.

In 1977 the artist was living in North Vancouver.

He was a long-time visitor to Savary Island, and at one point gave a "clothes line" exhibition of his work on the island to Fred Amess, then head of the Vancouver School of Art.

Munro moved to Sechelt in 1985, where he continued to paint in 2004. Information provided in this brief biography is mostly taken from notes of a telephone conversation with the artist in October, 2004, and from the attached letter from the artist (not dated) Christmas 2004. The letter included two artist cards made from stone lithographs.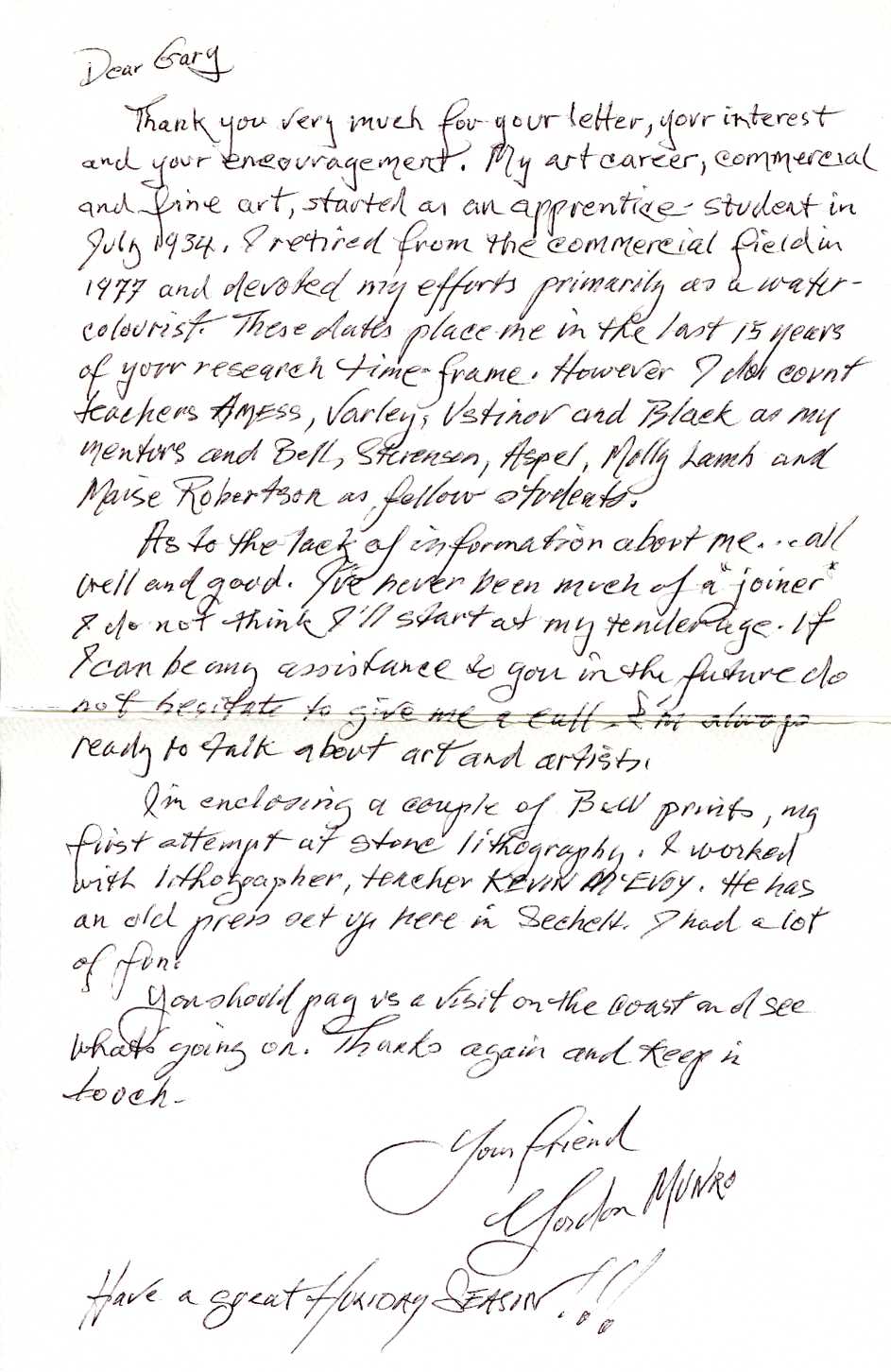 Artist's letter to the editor.
Exhibitions
| | | |
| --- | --- | --- |
| DATE | EXHIBITION | ARTWORK |
| | | |
| 1938 Sept. 16 - Oct. 9 | VAG B.C. Artists 7th Annual | At Rest |
| | | Delta |
| | | Finis |
| 1939 Sept. 15 - Oct. 8 | VAG B.C. Artists 8th Annual | Phantom Ship, Crater Lake |
| | | The Sentinels |
| 1940 Sept. 20 - Oct. 13 | VAG B.C. Artists 9th Annual | Summer Shower |
| | | Farmyard |
| 1941 Sept. 26 - Oct. 19 | VAG B.C. Artists 10th Annual | Winter Landscape |
| | | The Tree |
| 1942 Sept. 25 - Oct. 18 | VAG B.C. Artists 11th Annual | Sunset, Cultus Lake |
| | | Under Canvas |
| | | Lake Shore |
| 1943 Sept. 25 - Oct. 20 | VAG B.C. Artists 12th Annual | Thelma |
| | | Springtime, Cultus Lake |
| 1945 Sept. 22 - Oct. 21 | VAG B.C. Artists 14th Annual | Ramsay Gardens, Edinburgh |
| | | Summer Storm |
| 1947 Sept. 20 - Oct. 12 | VAG B.C. Artists 16th Annual | Harvest |
| | | Lofty Crag (Mt. Rainier) |
References
SEATTLE ART MUSEUM - NORTHWEST ARTISTS EXHIBITIONS 1914 - 1975
Refer to NWA BC artists by exhibition
Refer to NWAA BC artists alphabetically

VISUAL ARTS BRITISH COLUMBIA (refer to VABC77)

ARTISTS IN CANADA 1982 - UNION LIST OF ARTISTS' FILES (refer to AIC82)

Editor's correspondence and telephone call with the artist, 2004
Clippings
"Artists represented in the group comprise the following ... Gordon Munro ... (continues)
From "Maritime Art Association" Vancouver Art Gallery Bulletin, November (?), 1939

HOME