Philip Surrey
(Philip Henry Howard Eugene de Warenne de Guerin Surrey)
October 8 1910 - 1990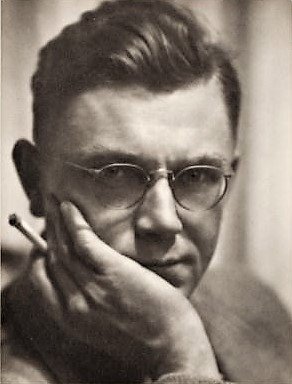 Philip Surrey portrait 1936


Philip Surrey was born in Calgary, Alberta in 1910.

He studied art under Lemoine Fitzgerald at the Winnipeg School of Art night class, and then under F.H. Varley for "two winters" from 1930 - 1932 in evening classes at the Vancouver School of Decorative and Applied Arts. He later studied at the Art Students League in New York in 1936 and 1937 under Alexander Abels.

He worked as a commercial artist with Cleland-Kent engraving in Vancouver. Refer also to engravers & printers.

He exhibited his work in the annual B.C. Artists shows at the Vancouver Art Gallery in 1932, 1934, and 1936.

In 1938 he exhibited a painting in the 55th Annual Spring Exhibition of the Art Association of Montreal. His address was given as 1016 Keefer Bldg., Montreal in the exhibition catalogue.

The majority of his exhibitions were held in eastern Canada.
Exhibitions
SOLO EXHIBITIONS
GROUP EXHIBITIONS

| | | |
| --- | --- | --- |
| DATE | EXHIBITION | ARTWORK |
| | | |
| 1932 May - July | VAG All Canadian Exhibition | Portrait of my Mother |
| | | Portrait of John |
| 1932 Oct. 5 - 30 | VAG B.C. Artists 1st Annual | Marie |
| | | The Pool |
| | | Study |
| 1934 Sept. 21 - Oct. 14 | VAG B.C. Artists 3rd Annual | Blue Dusk |
| | | Mountain Air |
| | | Montagu Harbour |
| | | Study |
| 1934 ? - ? | VAG B.C. Artists Edmonton Exhibition | Montagu Harbour |
| 1934 Dec. 4 - 16 | VAG B.C. Artists Christmas Exhibition | The Dinghy |
| | | Through the Window |
| 1935 Sept. 20 - Oct. 15 | VAG B.C. Artists 4th Annual | Going to Work |
| | | Miss Phyllis Planta |
| 1936 Sept. 18 - Oct. 11 | VAG B.C. Artists 5th Annual | Nox Nocti Indicat Scientiam |
| | | Wilderness |
| | | Lynn Valley Road |
| 1938 Mar. 17 - Apr. 10 | AAM 55th Spring Exhibition | Noumenal Construction |
References
ARTE CANADIENSE (refer to NGC60)

CREATIVE CANADA - Volumes One & Two (refer to CC71)
Over one full column of information about Surrey.

MONTREAL MUSEUM OF FINE ARTS -
SPRING EXHIBITIONS 1880 - 1970 (refer to MM88)

ROYAL CANADIAN ACADEMY OF ARTS -
EXHIBITIONS & MEMBERS 1880 - 1979 (refer to RCA81)

ARTISTS IN CANADA 1982 - UNION LIST OF ARTISTS' FILES (refer to AIC82)

VANCOUVER: ART & ARTISTS 1931 - 1983 (refer to VAG83)

ART BC, Masterworks From British Columbia by Ian M. Thom
2000, Douglas & McIntyre Ltd., ISBN 1-55054-808-5
232 pages illustrated in colour and b&w
Includes historical essays, biographical notes, index.
Critical biographical essay and The Milkman illustrated pages 42 - 43

BIOGRAPHICAL INDEX OF ARTISTS IN CANADA (refer to BIAC03)
15 references cited for Surrey
Clippings
HOME