Art & Artists in Exhibition: Vancouver 1890 - 1950
David Franklin Marshall
June 25 1928 - January 1 2006
B.C. Society of Artists (Member)
Northwest Institute of Sculpture (Founding Member B.C. Chapter)
Sculptor's Society of Canada (Founding Member Western Chapter, 1970)
Sculptor's Society of British Columbia (Founding Member)
David Franklin Marshall was born in Islay, Alberta. He studied art at the Ontario College of Art, then at the Vancouver School of Art for four years, where he "particularly appreciated" taking night school drawing classes under B.C. Binning. While taking these classes he met Carel Thompsen, a woman he married in 1952. He and his wife traveled to England in 1953 where he studied sculpture for a year at the Heatherley's School of Art in London, England. The Marshalls traveled through Europe on an art tour, and then returned to Vancouver. On the way back to Vancouver they visited Chicago and viewed the work of Mies van der Rohe. Marshall then took further studies in sculpture at the University of British Columbia.

In 1955 Marshall was one of the founders of the Northwest Institute of Sculpture, at Eugene, Oregon, and exhibited in their exhibition Sculpture of the Pacific Northwest.

In 1956, in cooperation with Robert Hume, a sculptor and curator at the Vancouver Art Gallery, Marshall organized the first outdoor exhibition of sculpture in Canada, held at the University of British Columbia.

He exhibited in the 1950 and 1956 B.C. Artists exhibitions at the Vancouver Art Gallery, also in B.C. Society of Fine Arts exhibitions in 1955, 1956, 1958, 1959, and 1964.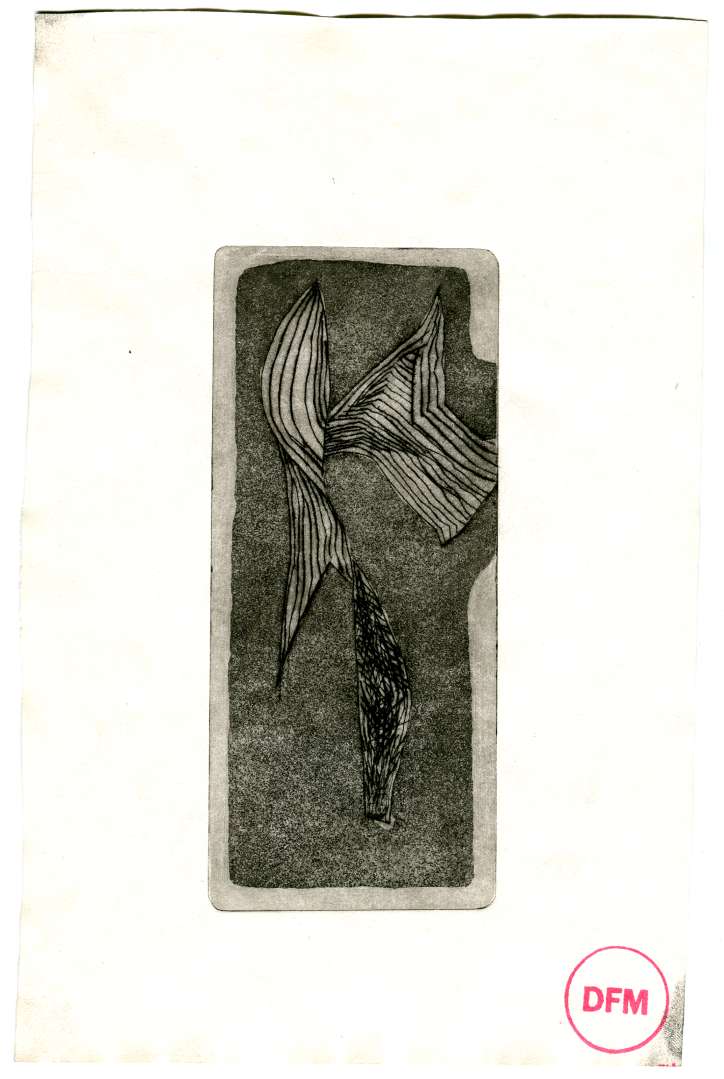 Marshall engraving c1964, courtesy Bob Macintyre

He had one-man shows at the Vancouver Art Gallery in 1959, and at the Little Gallery, New Westminster, in 1967.

He obtained a teaching certificate from U.B.C., and taught art for the Vancouver School Board for four years. In the summer of 1967 he organized an exhibition of sculpture on the plaza of the Queen Elizabeth theatre in Vancouver, held in conjunction with Vancouver's centennial year.

In 1970 Marshall took part in founding the Western Chapter of the Sculptor's Society of Canada, and later the Sculptor's Society of British Columbia, an organization which he stills supports in 2003, holding the position of Treasurer.

In 1973 he began teaching part-time at Capilano College in North Vancouver, a position he held until his "official" retirement in 1990. Following his retirement he enrolled in the College as a student to be able to continue using the sculpture facilities at the school.

In 1975 Marshall was one of twelve sculptors who took part in a Stone Sculpture symposium at Van Dusen Gardens in Vancouver, each sculptor spending two months working outside on a sculpture.

In 1982 he had a solo exhibition at the Richmond Art Gallery, from July 9 - 27. The Gallery produced their first exhibition poster for this show.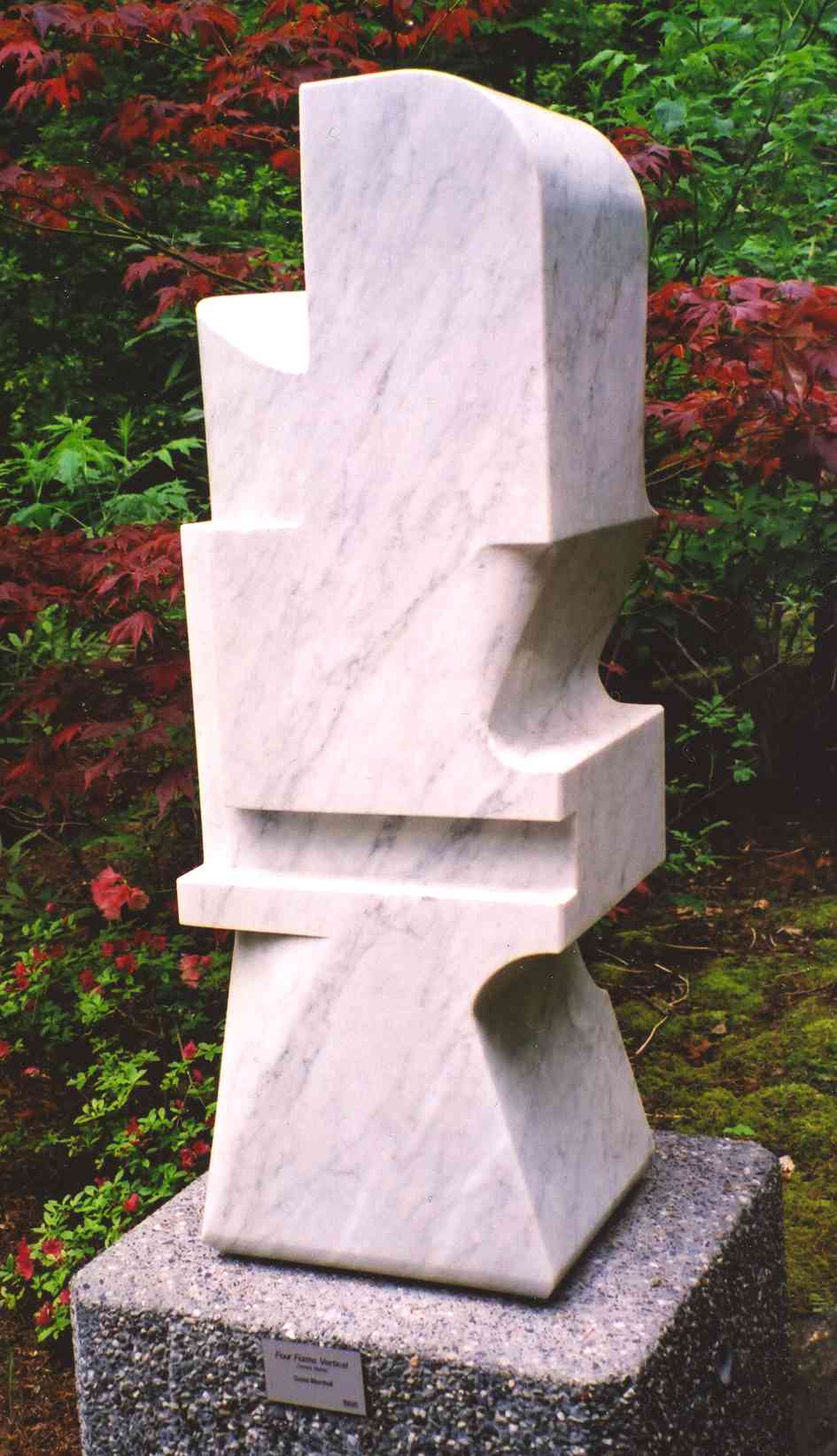 Marshall sculpture "Four Forms Vertical" at Big Rock Garden Park 2001, photo G. Sim

In 2001 a major retrospective of Marshall's work was held at the Big Rock Garden Park in Bellingham, Washington. Over thirty works in bronze and marble, representing forty years of work, were on display in a forested outdoor setting. Many of the sculptures had not previously been exhibited. The exhibition was co-sponsored by Capilano College, the Consul General of Canada in Seattle, the Center for Canadian Studies at Western Washington University, and the City of Bellingham.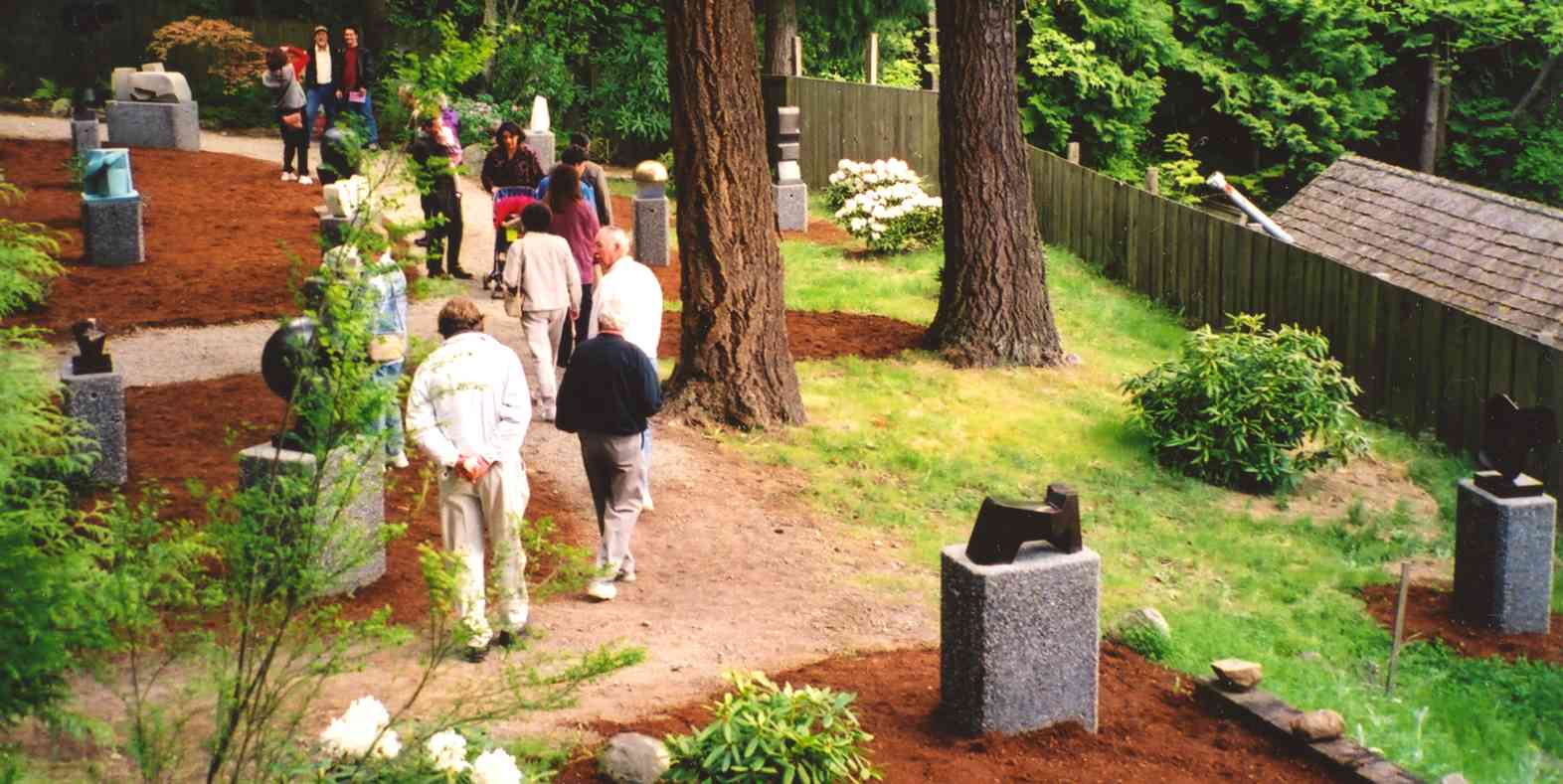 Marshall exhibition opening at Big Rock Garden Park 2001, photo G. Sim

The exhibition opened on May 13, with an opening celebration that included a short speech by Gary Sim, representing the Public Art Committee of the City of Vancouver. Marshall had been an advisor for the creation of the Big Rock Garden Park in 1987 for his good friend George Drake. In the photograph above 13 Marshall sculptures are visible, although the branch at centre left obscures some of them.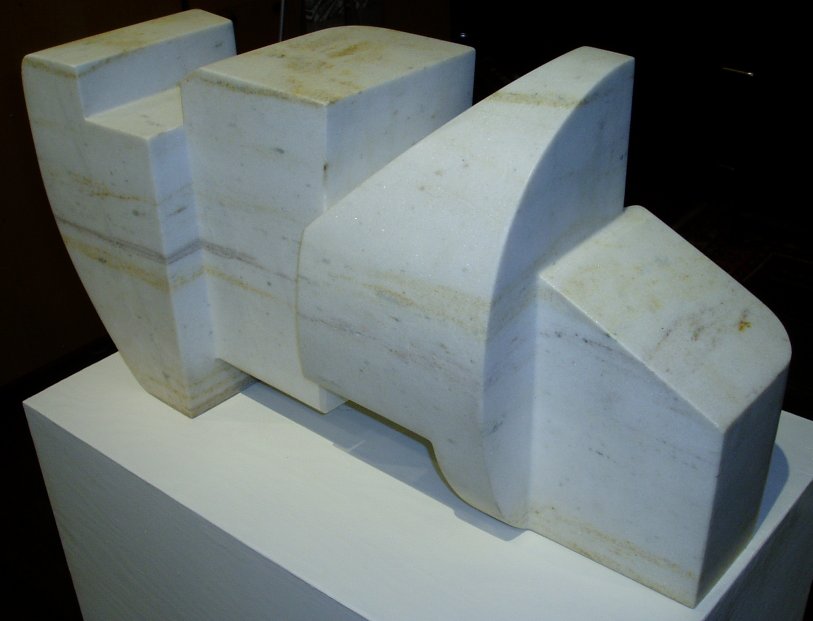 Marshall sculpture at AIBC exhibition 2008, photo G. Sim

In 2003 Marshall continued to sculpt daily, both in his back yard and in the studios at Capilano College. Unfortunately, little of his work was available for public viewing, although he has a work in Van Dusen gardens and another in a mall in Coquitlam. He owned a large collection of his own work that will hopefully one day be made available for the appreciation of the general public.


Marshall sculptures at AIBC exhibition 2008, photo G. Sim

Mona Fertig, owner of Mother Tongue Publishing, began researching her father's artwork around 2006, and discovered Marshall's work during her research. Marshall had been one of her father's - George Fertig - circle of artist friends in Vancouver. Mona commissioned a writer for Marshall's biography, and the project became the first publication in Mother Tongue Publishing's new series of books on the "unheralded artists of British Columbia." Exhibitions of Marshall's sculptures were held at the AIBC gallery in Vancouver and at the Bellevue Gallery in West Vancouver in conjunction with the launch of the book.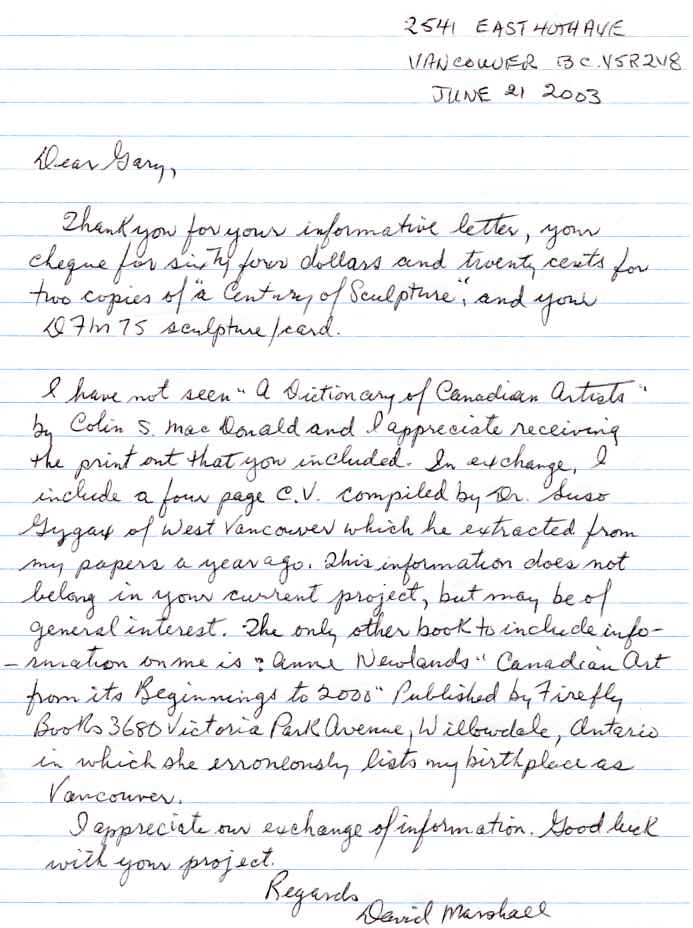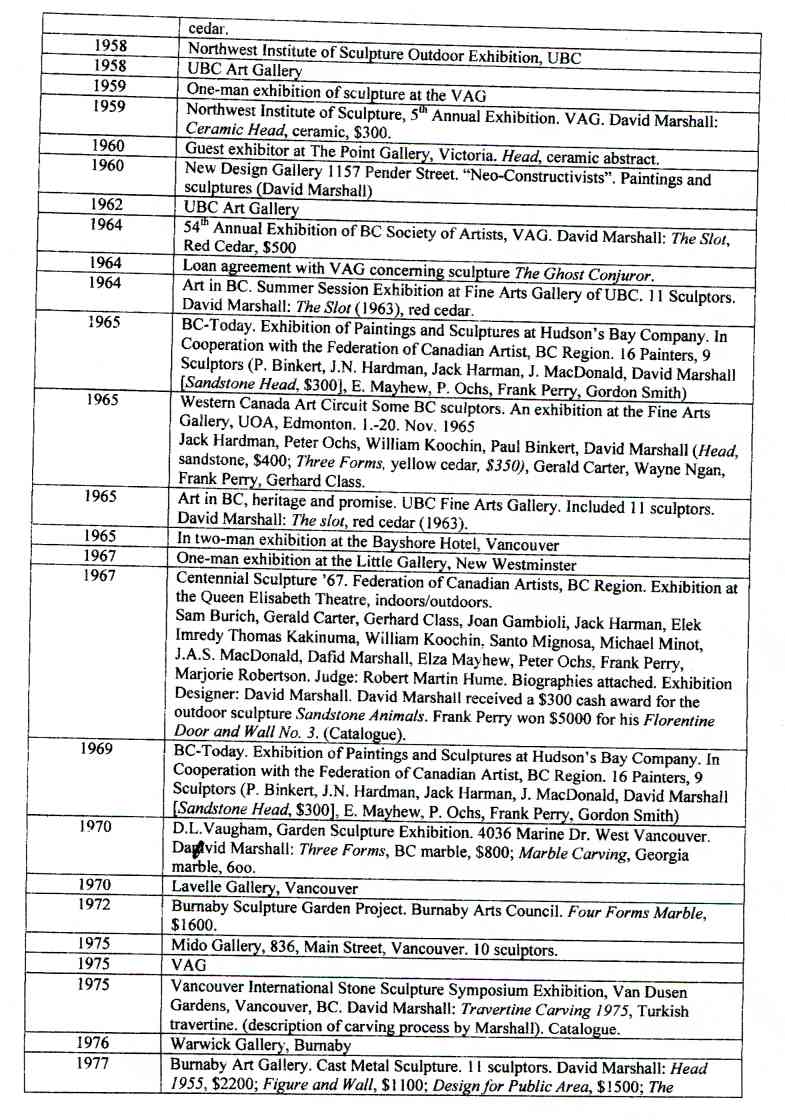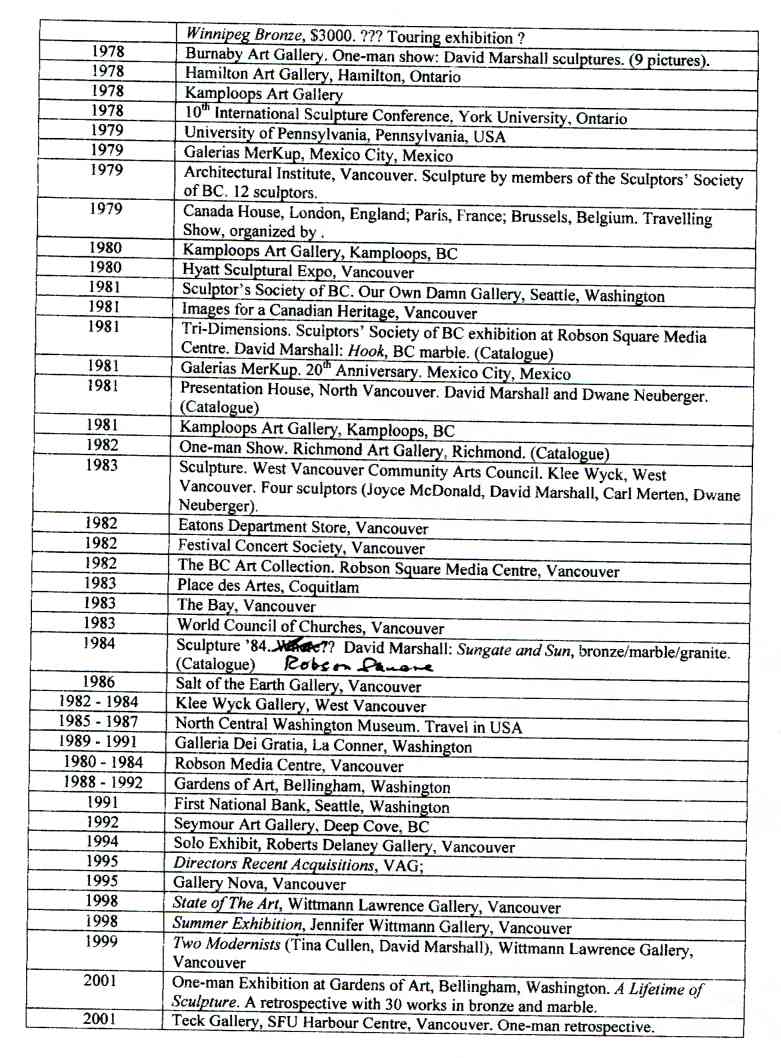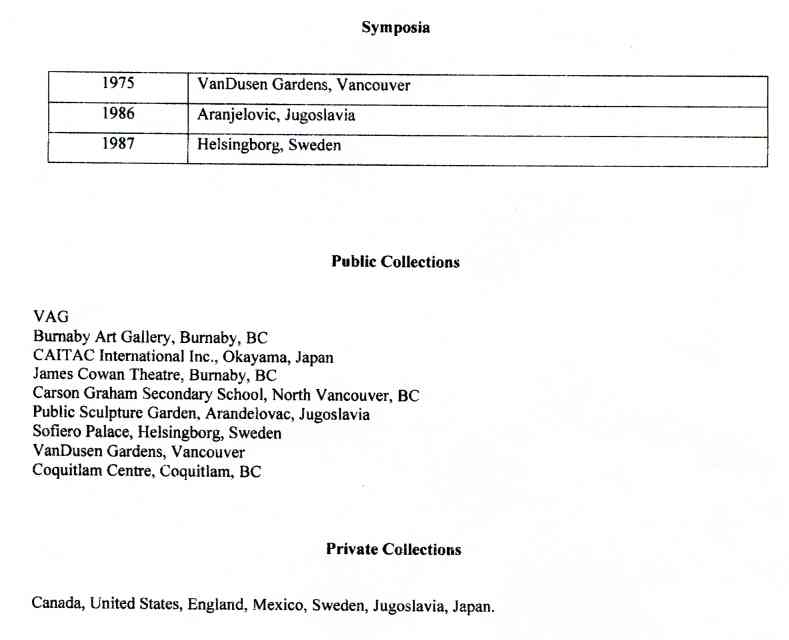 Letter and C.V. sent to the Editor by Marshall in 2003.


Marshall sculptures at AIBC exhibition 2008, photo G. Sim

Marshall sculptures at AIBC exhibition 2008, photo G. Sim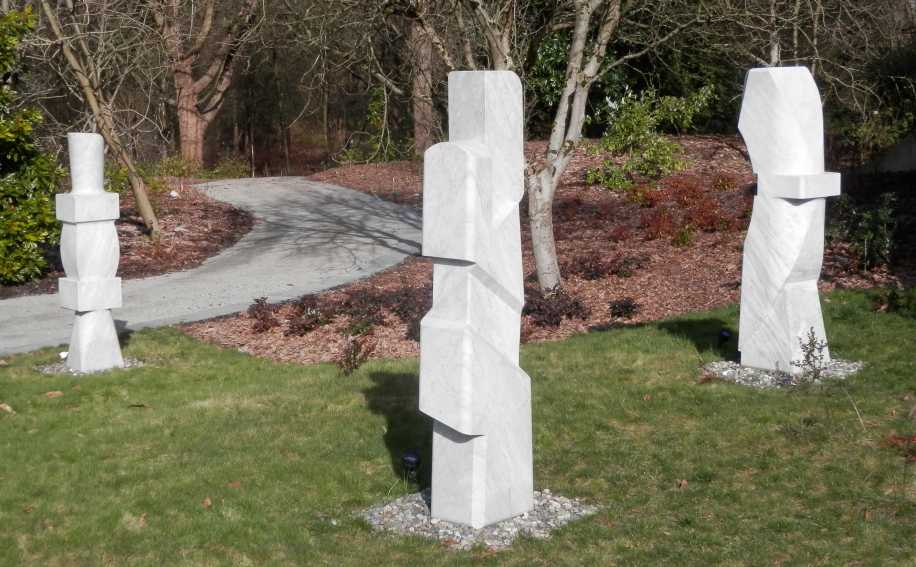 Sculptures installed at Van Dusen Gardens, Vancouver, 2013, photo G. Sim
SOLO EXHIBITIONS
| | | |
| --- | --- | --- |
| DATE | EXHIBITION | LOCATION |
| | | |
| 1959 | Solo Exhibition | Vancouver Art Gallery |
| 1967 | Solo Exhibition | The Little Gallery, New Westminster B.C. |
| 1992 | Solo Exhibition | Richmond Art Gallery, Richmond B.C. |
| 2001 | Retrospective exhibition | Big Rock Garden Park, Bellingham Washington |
| 2008 | Retrospective exhibition | Architectural Institute of B.C. Gallery |
GROUP EXHIBITIONS


| | | |
| --- | --- | --- |
| DATE | EXHIBITION | ARTWORK |
| | | |
| 1950 Nov. 28 - Dec. 17 | VAG B.C. Artists 19th Annual | No Title |
| | | No Title |
References - BIBLIOGRAPHY
Refer to BIBLIO.
References - GROUP EXHIBITIONS
100 YEARS OF B.C. ART (refer to VAG58)

CENTENNIAL SCULPTURE '67 (refer to FCA67)

BC SCULPTORS (refer to SSC74)

DIVERSITY (refer to SSBC80)

TRI-DIMENSIONS (refer to SSBC81)

DAVID MARSHALL / DWANE NEUBERGER (refer to PHG81)

THREE CANADIANS (refer to GM82)

SCULPTURE '83 (refer to SSBC83)

SCULPTURE '84 (refer to SSBC84)

THREE SCULPTORS / BRONZE (refer to WG03)

THE SCULPTORS' SOCIETY OF B.C. EXHIBITION 2004 (refer to SSBC04)

RICHMOND ART GALLERY 25:25 - 1980-2005 (refer to RAG05)

THE ORNAMENT OF A HOUSE - FIFTY YEARS OF COLLECTING (refer to BAG17)



References - GENERAL
VISUAL ARTS BRITISH COLUMBIA (refer to VABC77)

BRITISH COLUMBIA ART COLLECTION 1974-80 (refer to BCAC80)

A GUIDE TO SCULPTURE IN VANCOUVER (refer to GSV80)

ARTISTS IN CANADA 1982 - UNION LIST OF ARTISTS' FILES (refer to AIC82)

A DICTIONARY OF CANADIAN ARTISTS (refer to M)
Short biography, two references

A CENTURY OF SCULPTURE (refer to SSBC98)

Biography
Biography provided by the artist, 2001.

BIOGRAPHICAL INDEX OF ARTISTS IN CANADA (refer to BIAC03)
2 references to Marshall.

PUBLIC ART IN VANCOUVER - ANGELS AMONG LIONS (refer to PAV09)

VANCOUVER PUBLIC LIBRARY - B.C. ARTISTS FILES (refer to VPL)

GREATER VANCOUVER ART GALLERIES 1954-2020 (refer to GVAG20)
Numerous references to Marshall in a wide variety of galleries.
Clippings
"Imagination Shown in City Art Show" by Mildred Valley Thornton
Vancouver Sun, June 27 1959