Art & Artists in Exhibition: Vancouver 1890 - 1950
Alexander (also Alex, Alec) John Garner
1897 - 1995
Nelson Art Club
Second Front
Alex J. Garner was born in Southampton, England, and came to Canada as a child in 1906.

According to Macdonald, he lived in Edmonton and became a member of the Alberta Society of Artists (ASA). He donated a printed titled S.S. Moyie Kootenay Lake BC to the society, it was tipped in to the December 1951 issue of HIGHLIGHTS, the journal of the ASA.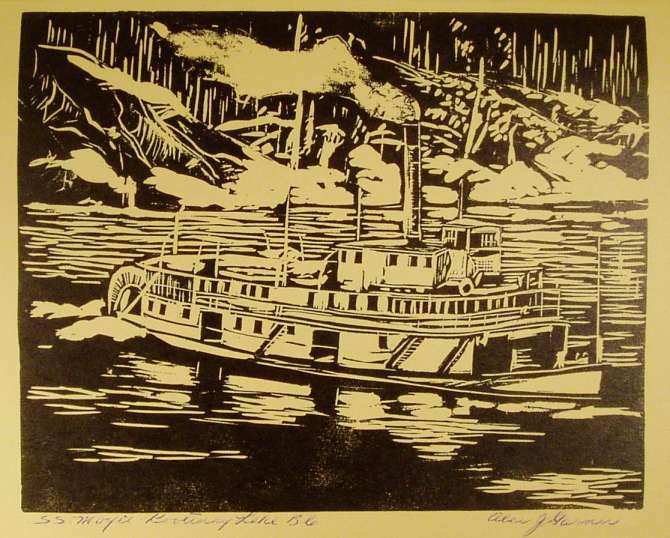 He exhibited artwork in the 1946 and 1949 annual B.C. Artists exhibitions at the Vancouver Art Gallery. He was living in Proctor at the time.

He had work in the Federation of Canadian Artists Third Traveling Exhibition in 1947.

He died at Kootenay Bay in 1995.
EXHIBITIONS
SOLO EXHIBITIONS
GROUP EXHIBITIONS

References
ROYAL CANADIAN ACADEMY OF ARTS -
EXHIBITIONS & MEMBERS 1880 - 1979 (refer to RCA81)
2 works listed in a 1939 exhibition.

ARTISTS IN CANADA 1982 - UNION LIST OF ARTISTS' FILES (refer to AIC82)

A DICTIONARY OF CANADIAN ARTISTS (refer to M)
Half a page of information on Garner, and five references.

BIOGRAPHICAL INDEX OF ARTISTS IN CANADA (refer to BIAC03)
2 references to Garner: M & RCA above.

VANCOUVER PUBLIC LIBRARY - B.C. ARTISTS FILES (refer to VPL)

THE FECKLESS COLLECTION (refer to FECK18)
Clippings