Art & Artists in Exhibition: Vancouver 1890 - 1950
Marion H. Langridge
dates
groups
Marion H. Langridge registered as a school teacher, 1st Class, with the Vancouver School Board in September 1922, after taking training at the Provincial Normal School in Vancouver. She was noted as residing in Vancouver.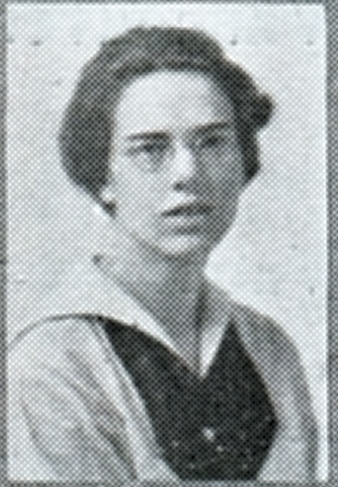 "Of pensive thought and aspect pale."
Provincial Normal School Annual class photo, 1921-22

She exhibited her artwork in the annual B.C. Artists exhibitions at the Vancouver Art Gallery in 1939, from 1941 to 1949, and in 1952.

She showed two paintings in the 1945 British Columbia At Work exhibition at the Vancouver Art Gallery.

BC Vital Statistics on-line had no definitive information on the artist as of August 2014.
EXHIBITIONS
SOLO EXHIBITIONS
GROUP EXHIBITIONS

| | | |
| --- | --- | --- |
| DATE | EXHIBITION | ARTWORK |
| | | |
| 1939 Sept. 15 - Oct. 8 | VAG B.C. Artists 8th Annual | Teepee At Banff |
| 1941 Sept. 26 - Oct. 19 | VAG B.C. Artists 10th Annual | Bryson's Barn, Pavilion, B.C. |
| | | Louis Louis', Pavilion, B.C. |
| 1942 Sept. 25 - Oct. 18 | VAG B.C. Artists 11th Annual | Sunday at White Rock |
| 1943 Sept. 25 - Oct. 20 | VAG B.C. Artists 12th Annual | Logs |
| | | Summer Study |
| 1944 Sept. 23 - Oct. 22 | VAG B.C. Artists 13th Annual | Gold Workings in Northern Ontario |
| 1945 Sept. 22 - Oct. 21 | VAG B.C. Artists 14th Annual | Bus Overdue |
| | | Boy - Gene of North Vancouver |
| 1945 ? - ? | FCA B.C. Artists Selections from 14th Ann. | Bus Overdue |
| 1945 Nov. 13 - Dec. 2 | Labour Arts Guild B.C. At Work | First Step in Housing |
| | | Study |
| 1946 Sept. 21 - Oct. 13 | VAG B.C. Artists 15th Annual | Props |
| 1947 Sept. 20 - Oct. 12 | VAG B.C. Artists 16th Annual | The Player |
| | | Green Oats, Lulu Island |
| 1948 Sept. 18 - Oct. 10 | VAG B.C. Artists 17th Annual | Gertrude |
| | | Lee's Trail, Sunday Morning |
| 1949 Oct. 8 - 30 | VAG B.C. Artists 18th Annual | The Palisades, Kamloops |
References
Provincial Normal School Annual, 1921-22

Vancouver City Schools Trustees Annual Report, 1925-26
Clippings