Art & Artists in Exhibition: Vancouver 1890 - 1950
Mary Edith Perceval Judge (May)
June 10 1875 - January 11 1966
Vancouver Poetry Society (Charter Member)
May Judge was born in Surbiton England, and arrived in Vancouver in 1902 or 1903 with her parents. Her father was an artist, as were her brother Spencer Perceval Judge and her sister Grace Judge.

May wrote poetry, and was published in Vancouver as early as 1907, in the December issue of Man to Man magazine.

Judge exhibited in the 1910, 1911, 1912, 1920, and 1921 Annual Exhibitions of the B.C. Society of Fine Arts. The 1920 exhibition was held at the Vancouver School Board offices on Hamilton Street.

May was a poet, and had two poetry chapbooks published by Ryerson Press, one in 1931 and one prior to that. The cover illustration for The Way to Fairyland is below.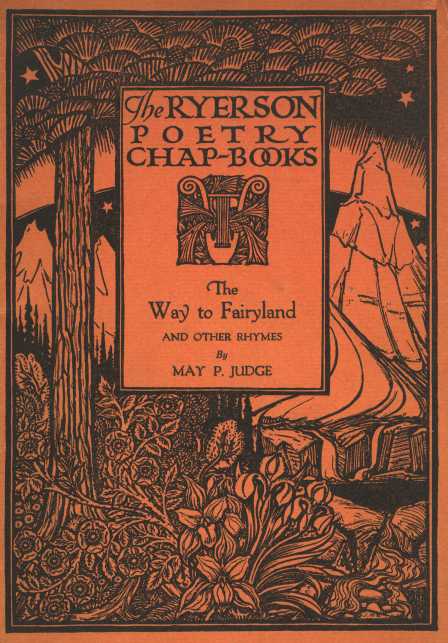 May had work in the 1933 B.C. Artists exhibition at the Vancouver Art Gallery, and also in the 1933 B.C. Artists Christmas exhibition.

The 1940 B.C. Directory listed her as a School Teacher. In 1946 she and her sister Grace Judge gave an exhibition of their watercolours at the Vancouver Art Gallery. Both of the women were living at 239 East 10th Avenue, North Vancouver at the time, telephone number North 774R. It cost them $5.00 to rent a room from the gallery for their exhibition.

May's work was included in the retrospective 1960 B.C. Society of Fine Arts exhibition, and later in the exhibition "Contemporaries of Emily Carr", at the Simon Fraser University Gallery, February 5 - 22, 1974.
Exhibitions
SOLO EXHIBITIONS
| | | |
| --- | --- | --- |
| DATE | EXHIBITION | LOCATION |
| | | |
| 1946 Nov. 19 - Dec. 8 | Exhibition by May Judge and Grace Judge | VAG Exhibition No. 742 |
GROUP EXHIBITIONS

References - MONOGRAPHS
Refer to BIBLIO.
References - GROUP EXHIBITIONS
CONTEMPORARIES OF EMILY CARR IN BRITISH COLUMBIA
1974, February 5 - 23; exhibition catalogue; illustrated, list of exhibits
by James Warren Felter and Maria Tippett
Exhibition held at the Simon Fraser University Gallery

BRITISH COLUMBIA WOMEN ARTISTS 1885-1985 (refer to AGGV85)
References - GENERAL
THE GOLD STRIPE - VOLUME TWO
1919, May. Published by the Amputation Club of B.C., Vancouver
220 pages (including text, advertisements and photographs)
Poem "Villanelle" by May illustrated by her sister Grace, page 104.

THE FINE ARTS IN VANCOUVER, 1886 - 1930 (refer to THOM)

ARTISTS IN CANADA 1982 - UNION LIST OF ARTISTS' FILES (refer to AIC82)

BIOGRAPHICAL INDEX OF ARTISTS IN CANADA (refer to BIAC03)
1 reference listed for May Judge, surprisingly no entries for her sister or brother.

VANCOUVER PUBLIC LIBRARY - B.C. ARTISTS FILES (refer to VPL)
Clippings
"The Judge Family is well represented with S.P. Judge and the Misses Grace and May P. Judge all exhibiting."
From "Bargains in Art" Vancouver Sun, December 1, 1933

"Judge. On Jan. 11, 1966 Miss Mary Edith Percival Judge, 239 East 10th Street, North Vancouver. Survived by her loving sisters, Miss Ruth, Vernon; Miss Grace, North Vancouver; her sister in law, Mrs. A.P. Judge, Vernon; other relatives in England. A charter member of Vancouver's Poetry Society. Funeral Services, Burrard Chapel Jan. 13. Cremation. Ocean View.
Vancouver Province, Jan 12 1966 p 24 col 3