Art & Artists in Exhibition: Vancouver 1890 - 1950
James Brian Fitzmaurice
c1875 - January 17 1926
J.B. Fitzmaurice was one of the original members of the B.C. Society of Fine Arts when it was founded in 1908, and was listed as a member in the exhibition catalogue of the BCSFA's debut First Annual Exhibition at the Dominion Hall in Vancouver, although he did not have a painting in the show.

He worked for the Vancouver Province as a cartoonist, as early as 1909. There is the notation "Kelowna 1894" on his entry in the card index at the Vancouver Art Gallery library. His membership in the BCSFA is also noted in 1929, and work in the May 1924 annual exhibition. He also had work in the 1916 and 1917 annual exhibitions of the BCSFA.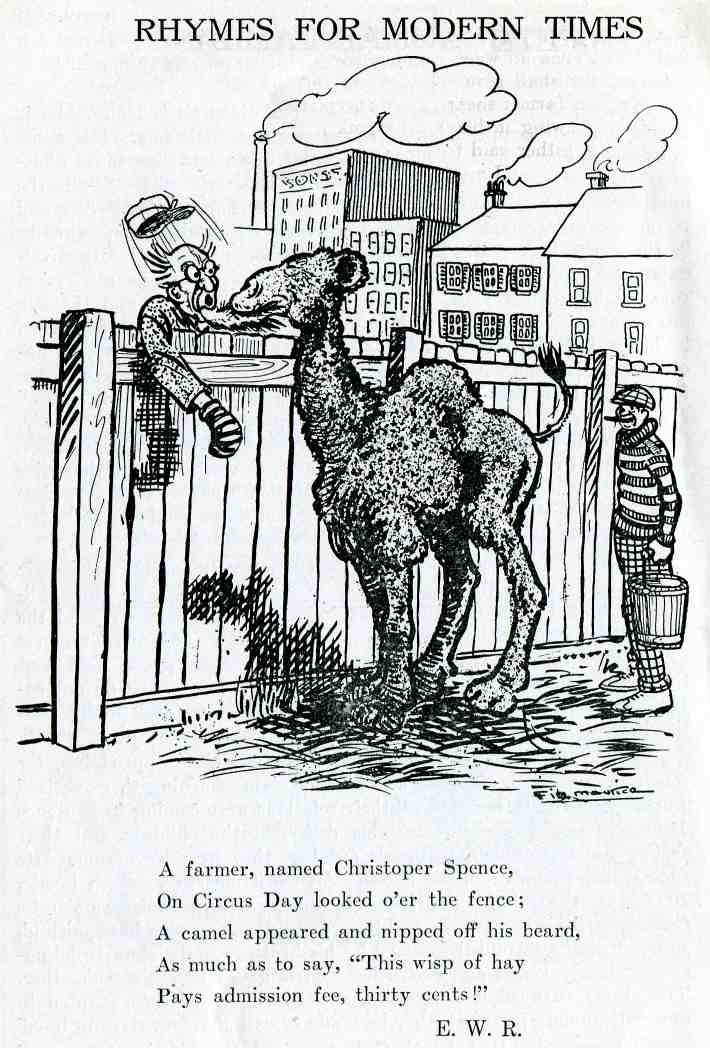 Illustration in December 1919 School Days magazine
Some of his cartoons were published in School Days magazine in 1919 and 1920.
He died in Vancouver in 1926 at the relatively early age of 51.
Exhibitions
| | | |
| --- | --- | --- |
| DATE | EXHIBITION | ARTWORK |
| | | |
| 1917 Sept. 14 - 22 | B.C.S.F.A. Eleventh Exhibition | On The Beach |
| | | Bathers |
| | | In The Valley |
| | | Evening |
| | | Flower Day |
| | | Tag Day |
| | | Portrait Sketch |
| | | Sight Seers |
References
THE GOLD STRIPE - VOLUME TWO
1919, May. Published by the Amputation Club of B.C., Vancouver
220 pages (including text, advertisements and photographs)
Includes two articles illustrated by Fitzmaurice.

THE FINE ARTS IN VANCOUVER, 1886 - 1930 (refer to THOM)

ARTISTS IN CANADA 1982 - UNION LIST OF ARTISTS' FILES (refer to AIC82)

THE BRITISH COLUMBIA VIEW OF CARTOONIST J.B. FITZMAURICE, 1908 - 1909
Robin Anderson, Journal of Canadian Studies, Vol. 42 No. 1 Winter 2008
University of Toronto Press
Partial abstract:
"an introduction to and an examination of the early political and social affairs cartoons of Vancouver Province newspaper
cartoonist James B. Fitzmaurice (1875-1926), who used the tools of visual rhetoric to create an imagined consensus in British Columbia."

BIOGRAPHICAL INDEX OF ARTISTS IN CANADA (refer to BIAC03)
1 reference to Fitzmaurice, incorrect birth/death dates.

VANCOUVER PUBLIC LIBRARY - B.C. ARTISTS FILES (refer to VPL)
Clippings
"J. Fitzmaurice is represented by four sketches full of vitality and certainty of line, their humor is as good as their drawing."
From "With The B.C. Artists", by "A Visitor"
Vancouver Daily Province, September 27, 1916

"Early artists of the first decade included ... Fitzmaurice, one of Canada's best cartoonists"
From "A Short Art History of British Columbia", by Charles H. Scott
Behind The Palette, June 1947