Art & Artists in Exhibition: Vancouver 1890 - 1950
Sybil Andrews
(Mrs. Walter M. Morgan)
1898 - 1993
B.C. Society of Fine Arts
Canadian Society of Painters and Etchers (Elected Member 1951)
Sybil Andrews was born in Bury St. Edmunds, Suffolk, England, and took her early art training at the Heatherley School of Fine Art. She worked as a fighter-plane welder during World War One. She joined the Grosvenor School of Modern Art as its Secretary when it was founded. In 1942 she again went to work in the war effort, in the yards of the British Power Boat Company. Here she met and married Walter Morgan.

In 1947 they moved to Canada, settling at Willow Point in Campbell River, where she continued to created her distinctive style of colour linoleum prints, including her well known "Stations of the Cross" series.

In 1948 she had a solo exhibition of 27 linocuts, referred to in the Art Gallery Bulletin, Volume 16 No.3.

She entered four drypoint etchings to the 1949 B.C. Graphic exhibition at the Vancouver Art Gallery, two of them were selected for the exhibition.

She exhibited in the B.C. Society of Fine Arts 39th Annual Exhibition in 1949. She also had major solo exhibitions, including at the Masters Gallery in Calgary, and one at the Glenbow that toured across Canada.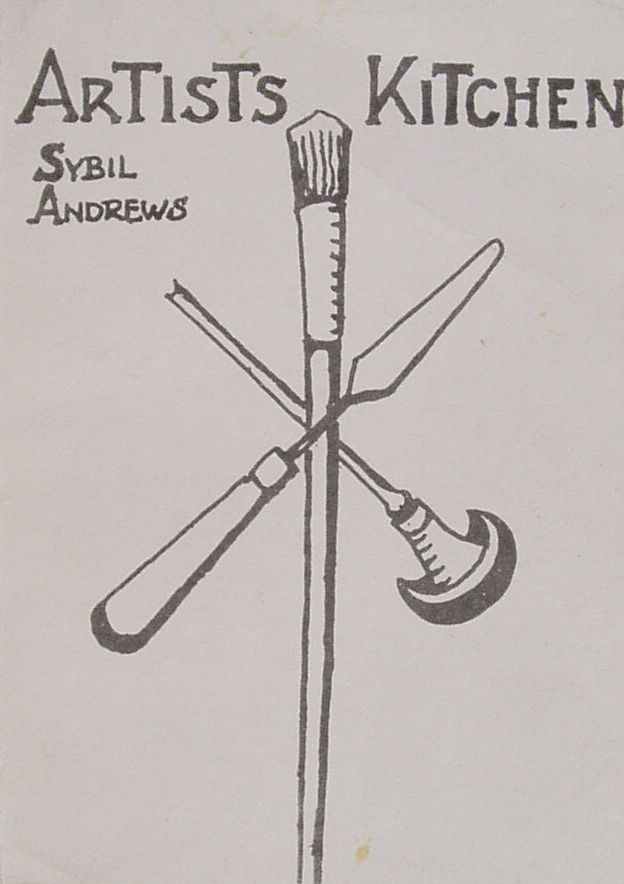 In 1986 she wrote a book called ARTISTS KITCHEN, in which she talked about art, how an artist should work and think, various techniques of art, and many other chapters based on her own life as an artist and as a teacher. The book was printed in England.

Her work continues to be sought after by collectors and those who appreciate her bold paintings and prints. She died in Victoria, B.C. in 1993. Ten years later some of her colour block prints were selling at auction for over $30,000.00 each.
Exhibitions
SOLO EXHIBITIONS
| | | |
| --- | --- | --- |
| DATE | EXHIBITION | LOCATION |
| | | |
| 1948 Nov. 16 - Dec. 5 | Solo show (22 colour linocuts) | VAG |
GROUP EXHIBITIONS

| | | |
| --- | --- | --- |
| DATE | EXHIBITION | ARTWORK |
| | | |
| 1948 Sept. 18 - Oct. 10 | VAG B.C. Artists 17th Annual | Little Ships |
| | | Shipyard |
| 1949 May 3 - 22 | BCSFA 39th Annual | The Woodcutter |
| | | Trees on the Moor |
| 1949 Nov. 22 - Dec. 11 | VAG First B.C. Graphic | Henry VII's Chapel, Westminster Abbey |
| | | Manoir de Formeville, Lisieux (rejected) |
| | | Pickle Herring Street |
| | | Canon Street Bridge (rejected) |
References - BIBLIOGRAPHY
Refer to BIBLIO.
References - GROUP EXHIBITIONS
SOUVENIR CATALOGUE OF EXHIBITIONS OPENING
THE NEW VANCOUVER ART GALLERY (refer to VAG51)

PRINTMAKING IN BRITISH COLUMBIA 1889-1983 (refer to AGGV83)

BRITISH COLUMBIA WOMEN ARTISTS 1885-1985 (refer to AGGV85)

THE DICTIONARY OF BRITISH ARTISTS 1880 - 1940 (refer to DBA76)

EARLY BRITISH COLUMBIAN WOMAN ARTISTS (refer to HG95)

A MODERN LIFE: Art and Design in British Columbia 1945-1960 (refer to VAG04)

OUR CHANGING LANDSCAPE (2008) (refer to BAG08)

VISIONS OF BRITISH COLUMBIA (refer to VAG09)

THE ORNAMENT OF A HOUSE - FIFTY YEARS OF COLLECTING (refer to BAG17)
References - GENERAL
ARTISTS IN CANADA 1982 - UNION LIST OF ARTISTS' FILES (refer to AIC82)

BY A LADY, Celebrating Three Centuries of Art by Canadian Women by Maria Tippett
1984, Viking, ISBN 0-670-84458-6
Bigraphical information page 142; illustration of Hauling, 1952

A DICTIONARY OF CANADIAN ARTISTS (refer to M)

ART BC, MASTERWORKS FROM BRITISH COLUMBIA by Ian M. Thom
2000, Douglas & McIntyre Ltd., ISBN 1-55054-808-5
232 pages illustrated in colour and b&w
Includes Andrews biography; full page colour illustration of Hauling, 1952

BIOGRAPHICAL INDEX OF ARTISTS IN CANADA (refer to BIAC03)
7 references cited for Andrews.

VANCOUVER PUBLIC LIBRARY - B.C. ARTISTS FILES (refer to VPL)

THE FECKLESS COLLECTION (refer to FECK18)

GREATER VANCOUVER ART GALLERIES 1954-2020 (refer to GVAG20)
4 references to Andrews.
Clippings