SIM PUBLISHING
Home Publications Artwork News Links About
---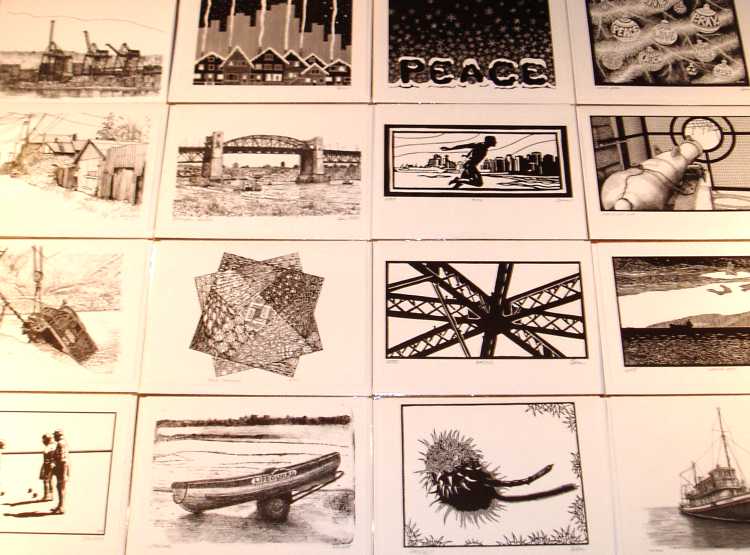 GREETING CARDS
I started making greeting cards in 1999, when I decided that it was time to create and send out my own Christmas cards. At first the process was a little too time consuming and fussy, but over the past few years I've evolved a system that allows me to produce a large variety of cards on my laser printer. I have now set up over 65 different cards. There are Christmas cards, cards for most of my limited edition prints, and for many of my original pen and ink drawings. Most of the cards are black and white, but some have been set to be colour printed, or are hand tinted.

NOTES REGARDING CATALOGUE:

All greeeting cards are printed in black and white unless noted as follows:
GC-001 C = printed in colour
GC-001 HC = hand coloured
GC-001 P = colour photograph
Cards are 5" high x 7" wide, blank inside, title & information on back of card.
Each card is titled and signed in pencil by the artist.
Each card is packaged in a clear acetate bag complete with mailing envelope.
The greeting card title, if hyperlinked, goes to my web page for the original print or drawing.
All images shown here are low resolution versions of higher resolution original images.
( no image )

GC-001
Public Art on Alberni


A view of a public art sculpture project in Vancouver at Alberni & Bute.

GC-002
Flowers


Some Rudbeckias basking in the morning sun at a Vancouver park.

GC-002 HC
Flowers


Hand coloured, india ink. Colours vary.
GC-003
Wreck


An old wooden wreck up the inside passage near Campbell River.

GC-004
Bridge


Looking up at the structure of the Burrard St. bridge, Vancouver.

GC-005
Looking Away


English Bay, Vancouver, looking west at a golden sunset.
( no b&w image - see GC-007 HC )

GC-006
Eagles Eye


An imaginary view of the BC coastline as viewed by the eagle.

GC-007
Basking


Seals and cormorants basking on the rocks at Savary Island, BC.

GC-007 HC
Basking


Handcoloured, india ink.
Home
Copyright 2011