SIM PUBLISHING
Home Publications Artwork News Links About
---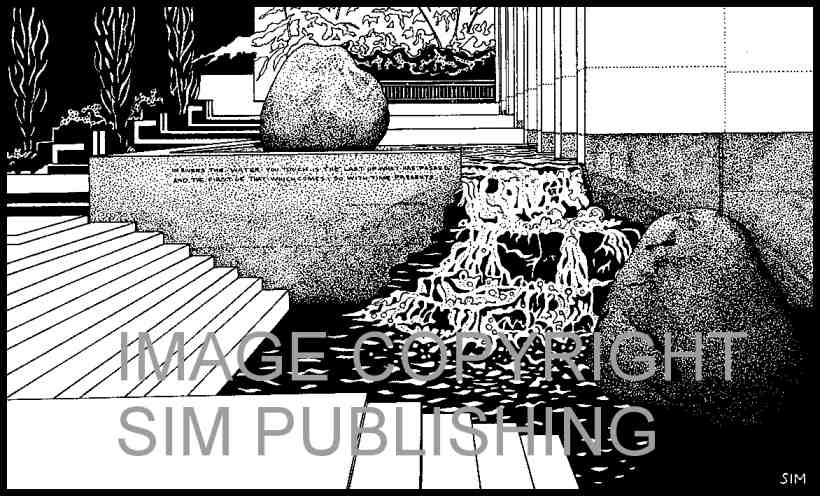 PUBLIC ART ON ALBERNI
Original pen & ink drawing issued Spring 2002
Image size 5.875" high by 7.875" wide (200 mm by 123 mm)
(Low resolution image illustrated)
I walked by this public art piece hundreds of times on the way to work and shopping without realizing that it was actually a work of art. One of the two boulders is a cast metal replica of the other boulder, and there is a very nice quote by Leonardo da Vinci cast into the concrete wall. The work was commissioned as the requisite public art piece for a redevelopment at the corner of Bute and Alberni Streets in downtown Vancouver. It wasn't until I was appointed to the Vancouver Public Art Committee that it was pointed out to me what it was.

As an aside, I think it is unfortunate that works like this are not identified in some fashion. This work is not titled, attributed to the public art program, or identified as an artwork, nor is the artist's name given anywhere on or around the piece. It is essentially anonymous, and could simply be a bit of landscaping / waterscaping done as part of the development - as I had always assumed.

Despite its anonymity, I like the piece, and enjoy looking at it. The changing light during the day gives it many different looks. One day when I was casting about for something architectural to draw I decided that I would draw this.

The drawing has been exhibited three times, twice at the Architectural Institute of B.C., and once at the Daily Grind Cafe, Vancouver.

It is drawn with Pilot DR pigment ink pens, on OPUS coated drawing paper, 150 gsm weight. The paper is 15% rag and 85% alpha cellulose acid free, manufactured for OPUS by the company that makes the paper that Canadian money is printed on. The drawing is archivally matted with acid free 4-ply matteboard and liner, and framed in a 16" x 20" OPUS metal exhibition frame.

Please refer to Artwork Price List for current price.
---
Home
Copyright 2006 - 2011