SIM PUBLISHING
Home Publications Artwork News Links About
---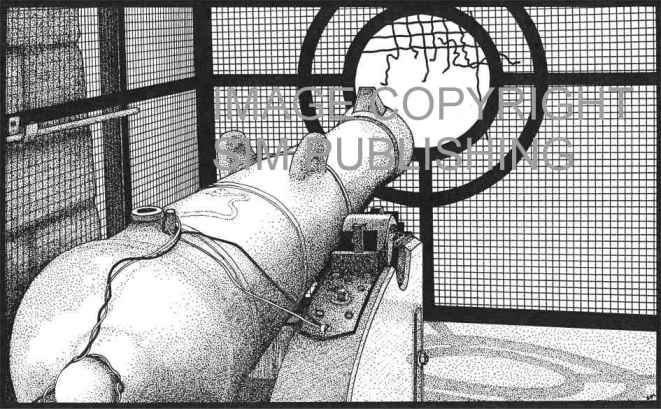 NINE O'CLOCK GUN
Original pen & ink drawing issued Spring 2002
Image size 4.8" high by 7.8" wide (122 mm by 200 mm)
(Low resolution image illustrated)
I have heard the nine o'clock gun firing since I was born. It is a British naval cannon, over a hundred years old, once used on men-of-war. It was then installed on Brockton Point, Stanley Park, and used to signal the end of fishing for the evening. It was also the signal for my evening curfew when I was a kid, and many nights I had to start peddling like mad to get home as quickly as possible after the gun went off.

I wanted to draw the gun for many years, and finally got around to it. I consider this to be the most difficult drawing I've ever done. Although the digital image on this page doesn't show it well, the linework on the grille surrounding the gun was extremely time consuming to draw, as I wanted it to be visually perfect.

In the original drawing, the electrical lines that are wired onto the gun are painted red and yellow with liquid acrylic. The wires, in that configuration, indicate that the gun is loaded and ready to fire.

The drawing was selected for publication in Amphora, the journal of the Alcuin Society, in the June 2004 Issue Number 135, on page 23. It has been exhibited twice, at the Architectural Institute of B.C., and at the Daily Grind Cafe, Vancouver.

It is drawn with Pilot DR pigment ink pens, on OPUS coated drawing paper, 150 gsm weight. The paper is 15% rag and 85% alpha cellulose acid free, manufactured for OPUS by the company that makes the paper that Canadian money is printed on. The drawing is archivally matted with acid free 4-ply matteboard and liner, and framed in a 16" x 20" OPUS metal exhibition frame.

Please refer to Artwork Price List for current price.
---
Home
Copyright 2006 - 2011