James Jerris Blomfield
(born Bloomfield)
1872 - 1951
Henry Bloomfield & Sons - Artists in Stained and Leaded Glass
Vancouver Arts and Crafts Association
Vancouver Studio Club and School of Art
The creation of stained glass windows is one of those niches of art that encompasses not only art, but also a multi-disciplinary craftsmanship. Stained glass is frequently installed as a prominent feature in a permanent architectural setting - employing the use of plain and coloured glass, paint, acid etching, bevelling, and other effects to enhance the ambient light entering the space.

In Vancouver stained glass was used frequently in the construction of churches, office buildings, and private dwellings, beginning in the very first days of Vancouver's metamorphosis from a wood shanty-town. The first stained glass installed in Vancouver was manufactured elsewhere and shipped here. The first art glass firm in British Columbia, Henry Bloomfield and Sons, opened in New Westminster in 1889, the firm later moving to Vancouver in 1898.

One of Henry Bloomfield's sons was James Blomfield. He was born James Jerris Bloomfield in Maidenhead, Berkshire, England in 1872, later dropping one of the "o's" from his name around 1900. His father Henry was an artist and engraver. James worked as a junior draftman in an architectural office, and studied art in Calgary between 1887 and 1889 after the family moved there from England. The family moved to New Westminster in 1889, where Lord Aberdeen, impressed by an example of James' work, sponsored his further education in England and Belgium. Blomfield also studied art glass manufacture in Chicago, New Orleans, London, and Manchester.

Returning to the West Coast, he and members of his father's firm decorated the new Parliament Buildings, and created memorial windows for Christ Church Cathedral in Victoria. In Vancouver he designed a magnificent three-part "landing light" for Gabriola, the mansion on Davie Street built for local sugar magnate B.T. Rogers.

James was also a good artist, and in addition to creating stained glass designs, and painting the panels on the windows, he also painted in watercolour and did woodcuts and etchings. He supported the arts, and gave an exhibition in his Vancouver studio of the work of Sophie Pemberton.

The 1904 Henderson's Directory listed Bloomfield as an artist, in rooms 39 at the Fairfield Building, 443 Granville Street.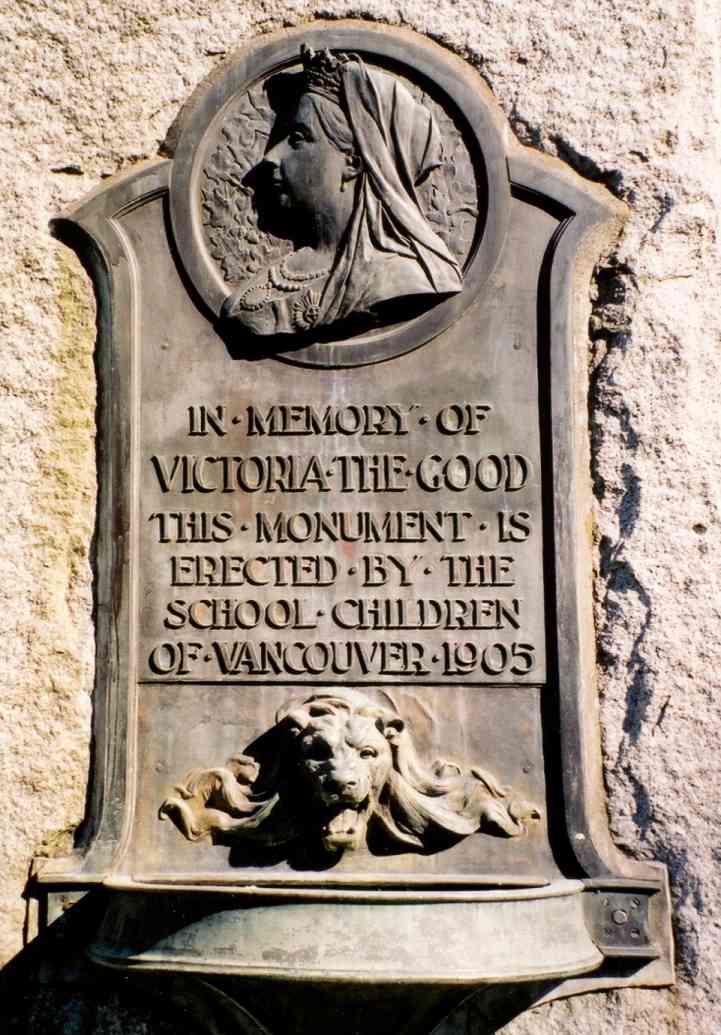 Queen Victoria fountain, central detail
He was commissioned in 1905 to design a drinking fountain in honour of Queen Victoria. It was installed near the main entrance to Stanley Park. It featured a portrait of the Queen in low relief bronze, and the head of a lion whose mouth originally poured water. He also designed the Vancouver city coat of arms.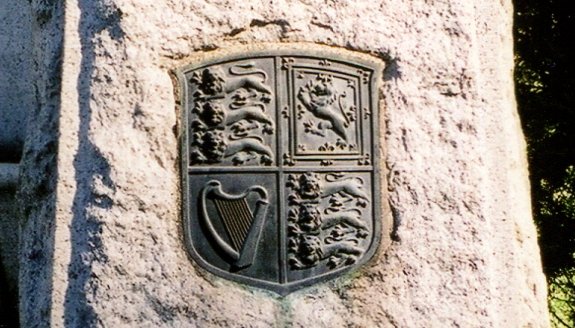 Queen Victoria fountain, side detail
In 1907 he moved to the United States, living in various cities until 1920 when he moved to Toronto. He was a highly-regarded artist and architectural renderer, but died in 1951 after being struck by an automobile. He married in 1902, his wife dying in 1932 without any children.
During his time in Vancouver he was actively involved in support of the local arts scene, helping to found the Vancouver Arts and Crafts Association in 1900. The was the precursor of the Studio Club founded in 1904, which led eventually to the formation of the B.C. Society of Fine Arts in 1908. Blomfield was in group exhibitions with T.W. Fripp and S.P. Judge in 1903 and 1906.
Many years later he was represented in the 1980 exhibition Rainbows In Our Walls - Art and Stained Glass in Vancouver 1890 - 1940, published by the Vancouver Centennial Museum. The exhibition catalogue included a short biography of Blomfield, a reproduction of the artist at work, and information about his stained glass work (see abbreviated listing below).
Three years later his etching "Cannery Store", c.1900, was included in the 1983 survey exhibition Printmaking In British Columbia at the Art Gallery of Greater Victoria, on loan from the collection of the Vancouver City Archives.
Exhibitions
DATE
EXHIBITION
ARTWORK
October 1903
Group Exhibition - T.W.Fripp,
J. Blomfield, S.P. Judge
title(s) not known to editor
November 1906
Group Exhibition - T.W.Fripp,
J. Blomfield, S.P. Judge
title(s) not known to editor
Dec. 9 1978 - March 18 1979
Rainbows In Our Walls

5 untitled watercolours - local scenes
The Lions of Capilano, Vancouver (m/m)
The Tenaso Sawquai shack Vancouver #6 (etching)
The Arms of the Blomfields of Suffolk (Gouache)
On Hatzic Lake British Columbia (etching)
The Old West Coast (etching)
Lonely Fiords of the West Coast (w/c)
Old Capilano Beach (etching)
untitled - natives in canoe (woodcut)
Giftgiving Pole (w/c c1905)
Under St. James Spire, Toronto (etching)
Hillside Shadows At Sundown (w/c - pencil 1915)
The Working End and East Window (w/c)
Oct. 6 - Nov. 27 1983
Printmaking in B.C. 1889-1983
Cannery Store (etching c1900)
References - MONOGRAPHS
Refer to BIBLIO.
References - GROUP EXHIBITIONS
RAINBOWS IN OUR WALLS - Art and Stained Glass in Vancouver 1890 - 1940
1980 exhibition catalogue, Vancouver Centennial Museum, Robert D. Watt
Exhibition December 9 1978 - March 18 1979. ISBN 0-919253-02-4 (paper)
Overview of stained glass making, local history of stained glass installation
Biographies of James Blomfield, Charles Bloomfield, Bloomfield and Sons, F.L. Tait, others
Illustrated in colour and black and white; list of exhibits and illustrations

ARTISTS IN CANADA 1982 - UNION LIST OF ARTISTS' FILES (refer to AIC82)

PRINTMAKING IN BRITISH COLUMBIA 1889-1983 (refer to AGGV83)

BEYOND THE CANVAS - Artists, Stories and the Sea (refer to VMM00)
References - GENERAL
THE FINE ARTS IN VANCOUVER, 1886 - 1930 (refer to THOM)

PUBLIC ART IN VANCOUVER (refer to UBC72)

A GUIDE TO SCULPTURE IN VANCOUVER (refer to GSV80)

A DICTIONARY OF CANADIAN ARTISTS (refer to M)

BUILDING THE WEST - Early Architects of British Columbia
2003; Edited by Donald Luxton, numerous contributing authors and researchers
Talonbooks, ISBN 0-88922-474-9
560 pages, extensively illustrated in black and white, some colour
Biographies of over 400 architects and firms; extensive bibliography
Includes biography of Blomfield, history of the stained glass company.

BIOGRAPHICAL INDEX OF ARTISTS IN CANADA (refer to BIAC03)
2 references listed for Blomfield, including M & A Guide to Canadian Painters.

WATERFRONT by James P. Delgado, Executive Director, Vancouver Maritime Museum
"The illustrated maritime story of Greater Vancouver"
Published by Vancouver Maritime Museum and Stanton Atkins & Dosil Publishers
2005, ISBN 0-9732346-5-2, 186 pages hardcover first edition with dust jacket
Includes list of sources, index, credits, acknowledgements
Extensively illustrated in colour and black and white with art and photographs
Artwork reproduced from Atkins Feckless Collection includes colour etching by Blomfield on cover and on page 34

PUBLIC ART IN VANCOUVER - ANGELS AMONG LIONS by John Steil and Aileen Stalker
2009; ISBN 978-1-894898-79-9; softcover, 176 pages, published by TouchWood Editions
Photographs and locations of more than 500 public art pieces in Vancouver
Illustrated throughout in colour; includes introduction, neighbourhoods, references,
artist index, artwork index, acknowledgments.
Artists referenced include James Blomfield
see also PAV09

CITY & PROVINCIAL DIRECTORIES 1904-06 (refer to DIR)

THE FECKLESS COLLECTION (refer to FECK18)
Clippings
" ... of which we most admired two plates designed by Mr. Jas. Bloomfield ... Miss Drainie's fish set, accompanied by the clever designs prepared for this set by Mr. Jas. Bloomfield ... Mr. Jas. Bloomfield also showed some cartoons and a folio of delightful schemes in leaded glass; judging from some of these it would appear that this artist is finding more and more to interest him in mosaic treatment, some of the designs being for absolute mosaic in glass and lead without painting."
From "British Columbia Letters, No. VII", by (unknown)
The Canadian Architect and Builder 1901

"The career of James Blomfield has been varied and colourful. At the age of thirteen he migrated to the western plains, and for a time lived the life of a cowpuncher. The major part of his professional life has been occupied as a designer in stained glass. As a painter he is best known for his fine work in water-colour, in which medium he paints with a fine freedom, if somewhat traditional in execution. While he has produced many pictures of the mountains and plains, his work in Toronto and its environs constitute his most important contribution to painting."
From Canadian Landscape Painters, Albert H. Robson; page 204
The Ryerson Press, Toronto, 1932

"I Live the Life I Love Best"
Vancouver Province, August 4, 1945 magazine section page 6

"Church Beauty Lives In Blomfield's Art"
Toronto Globe and Mail, Nov. 26, 1946

"Artist James Blomfield Is 26th Traffic Fatality"
Toronto Star, June 25, 1951




HOME