SIM PUBLISHING
Home Publications Artwork News Links About
---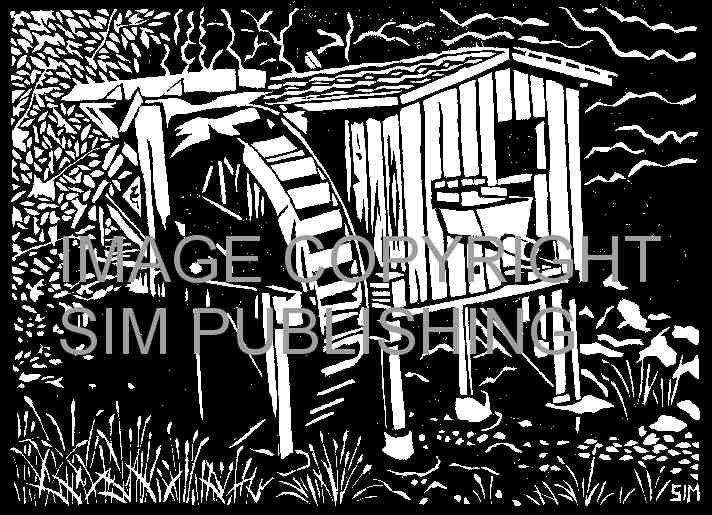 SHUCKING SHED (Lund, B.C.)
Original Limited Edition Block Print issued August 2004
Image size 6" high by 8" wide (150 mm by 200 mm)
(Low resolution image illustrated)
This old shed and its waterwheel are on their last legs. Built on the shoreline of Lund harbour, the waterwheel has rotted apart in a couple of places and is only barely standing up on its own. A modern boardwalk has been constructed along the shoreline of the harbour, from which this view is taken. The boardwalk also passes by the far side of the shed, but has been omitted from this print so that the shed looks as it would have while in use for shucking and cleaning oysters and other shellfish.

The edition consists of 30 prints on BFK Rives (France) 180gsm paper, hand printed by the artist with Speedball water soluble block printing ink, using an antique hand press. All prints are editioned, titled, signed and dated by the artist, plus the print is monogrammed in the plate lower right.

Hand-tinted versions of this print are available.

Please refer to Artwork Price List for current price.
---
Home
Copyright 2006 - 2011