SIM PUBLISHING
Home Publications Artwork News Links About
---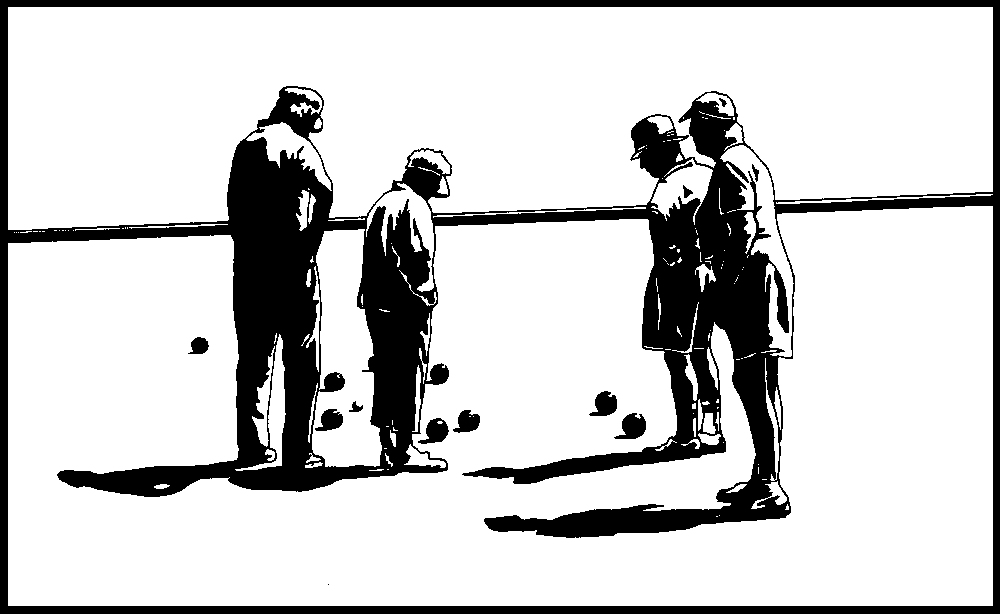 LAWN BOWLERS (in Stanley Park, Vancouver)
Original Limited Edition Block Print issued August 2004
Image size 8" high by 10" wide (200 mm by 250 mm)
(Low resolution image illustrated)
Many years ago my grandfather was Assistant Greenskeeper at the Lawn Bowling Club in Stanley Park. I visited him there a number of times, and always enjoyed the quiet and civilized manner of the game. Recently I was bicycling by the greens and noticed that a large number of games were in play. On an impulse I went and watched them for a while. It turned out to be a playdown leading up to the B.C. Championship, and the players were all concentrating on their games.

The edition consists of 30 prints on BFK Rives (France) 180gsm paper, hand printed by the artist with Speedball water soluble block printing ink, using an antique hand press. All prints are editioned, titled, signed and dated by the artist.

This print was selected for publication in Amphora, the journal of the Alcuin Society. It is in the June 2004 Issue Number 135, on page 24.

Please refer to Artwork Price List for current price.
---
Home
Copyright 2006 - 2011