SIM PUBLISHING
Home Publications Artwork News Links About
---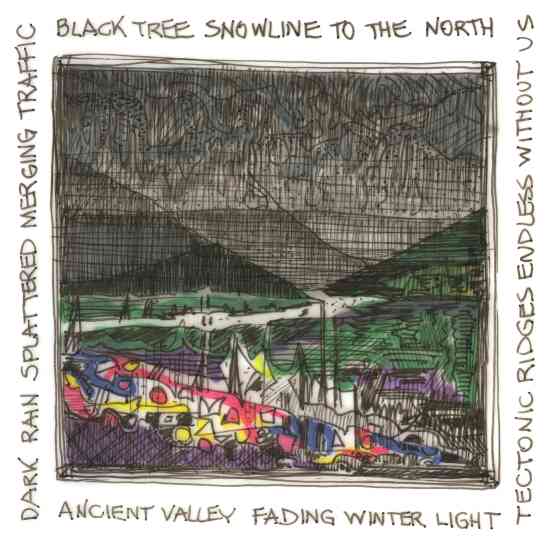 MERGING TRAFFIC
Original pen & ink drawing issued 2006
Image size 3.5" high by 3.5" wide (90 mm by 90 mm)
(Low resolution image illustrated)
INTRODUCTION

This is an imaginary view looking north across the Lougheed Highway up the Pitt River valley in winter. A few days previous to drawing it I had gone up the Fraser Valley with a friend on a tour of bookstores, and on the way back we got caught in traffic merging onto the Pitt River bridge. As a passenger, I didn't need to concentrate on driving, and thought that the view up into the gathering dark of a winter night made an interesting contrast to the glitter and brake lights of the traffic jam. The surrounding poem summarizes my thoughts.

Although I consider this drawing to be part of the Transient Moorage series of drawings done in 2006, it is completely different in content than the rest of the series.

It is drawn with Pilot DR pigment ink pens and india ink brush pen on translucent vellum. The drawing is in a 12" x 16" OPUS black metal exhibition.

Please refer to Artwork Price List for current price.
---
Home
Copyright 2007 - 2011