SIM PUBLISHING
Home Publications Artwork News Links About
---

Transient Moorage, pen & ink on vellum (detail)
TRANSIENT MOORAGE
ISBN 978-0-9732542-3-5
Issued November 2006
TRANSIENT MOORAGE is a collection of 13 drawings completed between February and October 2006. They were all drawn with pigment pen and india ink brushpen on translucent vellum. Each drawing is accompanied by an explanation about the image. The drawings include scenes around Vancouver and up the coast, as well as four scenes related to the artist's former employment on the B.C. Railway Rock Gangs, and one abstract image accompanied by a poem.

The drawings were reproduced directly from the original artwork on a high-end colour photocopier. The folio was issued in a (very) limited edition of 5 copies, all of which have been spoken for. Thus, the series is now out of print. A second edition was planned, but since some of the original drawings have been sold, that edition cannot be completed as originally planned.

A number of the drawings in this series are still available for purchase, including Cheakamus Salvage below. Transient Moorage has been sold.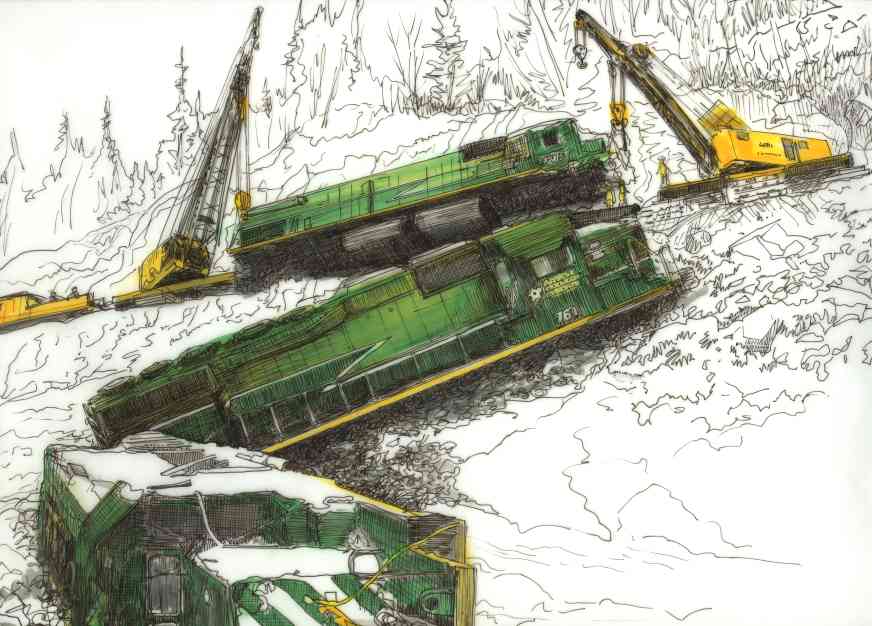 Cheakamus Salvage, pen & ink on vellum (detail)
---
Home
Copyright 2011