Adelaide Langford
(Mrs. Horace Ayleffe Langford)
(nee Adelaide Elizabeth Winyard Hurd)
c1856 - 1939
Adelaide Langford was an early exhibitor in Vancouver, exhibiting with the B.C. Society of Fine Arts in 1910 and 1916.

An article "The Fine Arts", published June 9, 1923 in the Western Women's Weekly, noted that Langford was a critic of the Studio Club, and had painted the murals on the ceiling of the C.P.R. Station in Vancouver (presumably the third one, currently serving as the Seabus and Westcoast Express Rail terminus). The C.P.R. Station opened on August 1, 1914.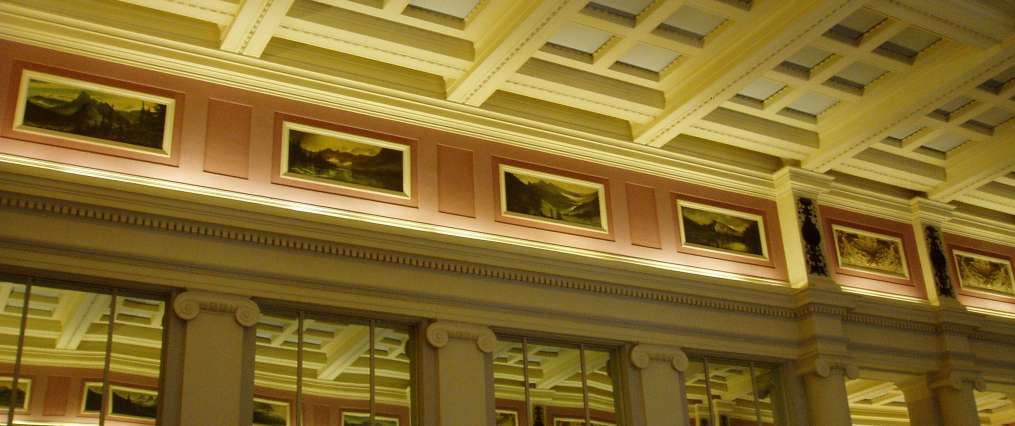 B.C. Vital Statistics on-line lists no information on Langford under the name as given above. Information is given that a Mr. Horace Ayliffe Langford died in Vancouver at the age of 70 on May 27, 1920, he was presumably her husband.

A page on Rootsweb provides marriage information from Toronto, Ontario in 1874 that matches most of the names and dates, and thus probably provides the artist's full maiden name and age at that time:
011836-74 Horace Ayliffe LANGFORD, 24, Isle of Wight, Toronto s/o Ayliffe & Jane Elizabeth LANGFORD married Adelaide Elizabeth Winyard HURD, 18, Toronto, same d/o Thos. Gladwin & Louisa HURD. Witn E.F. LANGFORD, F.W. JARVIS, Eleanor SKYNNE, & Ellen SKYNNE all of Toronto, October 14, 1874.

More research should be done on this artist, based on the good review below and her work on the C.P.R. Station.
Exhibitions
SOLO EXHIBITIONS
GROUP EXHIBITIONS

References
THE FINE ARTS IN VANCOUVER, 1886 - 1930 (refer to THOM)

ARTISTS IN CANADA 1982 - UNION LIST OF ARTISTS' FILES (refer to AIC82)

BRITISH COLUMBIA WOMEN ARTISTS 1885-1985 (refer to AGGV85)

PUBLIC ART IN VANCOUVER - ANGELS AMONG LIONS (refer to PAV09)
Clippings
"Adelaide Langford is represented by three strongly painted, and, if the term is admissable, virile works. They are "The Dryad's Haunt," No. 7(?), "The Canyon, Yale," No. 80, and "Sunset," No. 77. The three are in a class by themselves and they would not be out of place in any British or Continental gallery. "The Canyon, Yale" is full of poetic feeling very adequately rendered while the massiveness and depth of color of the "Sunset" display true artistic insight. It is easy to see that the painter has sat at the feet of the old masters and gleaned something of their witchery."
From "With The B.C. Artists" by "A Visitor"
Vancouver Province, September 27 1916




HOME