Lewis Alfred Elliott
August 11 1876 - December 19 1963

L.A. Elliott was born in Sheffield UK in 1876. According to a 1921 article that he wrote, he apprenticed in England as a Printer. He came to Canada around 1898, and moved to BC around 1910. For the last 21 years of his life he lived in New Westminster, where he died at the age of 87.

Lewis was registered in September 1921 to teach with a Technical Certificate for the Vancouver School Board. He wrote and illustrated articles for School Days magazine, including a 2-part story The Runaways published in the December 1920 and January 1921 issues.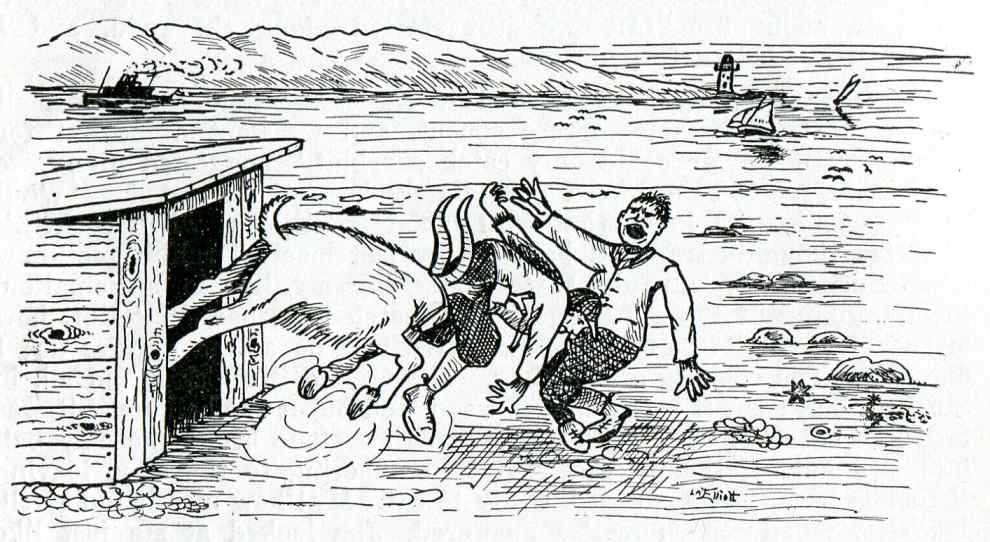 Illustration in January 1921 School Days magazine
He taught printing at the Vancouver Technical High School in the 1930s, and also wrote and published a brochure on linocut printing in 1934. While teaching there he was Major of the school Cadet team, and put together a scrapbook history of the Technical School Cadets sometime around 1942, now in the possession of the Vancouver City Archives. It includes numerous clippings from Vantech, the school's magazine. Lewis retired in 1942, after teaching for 25 years.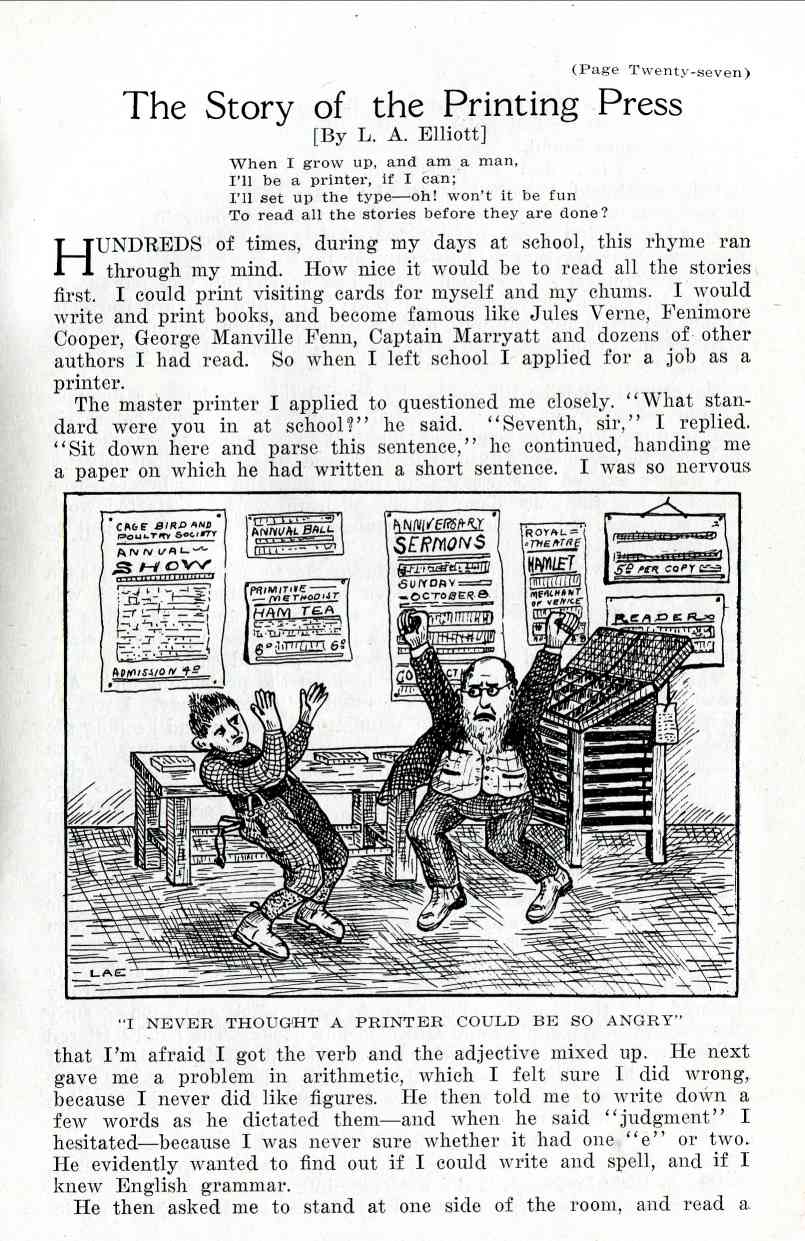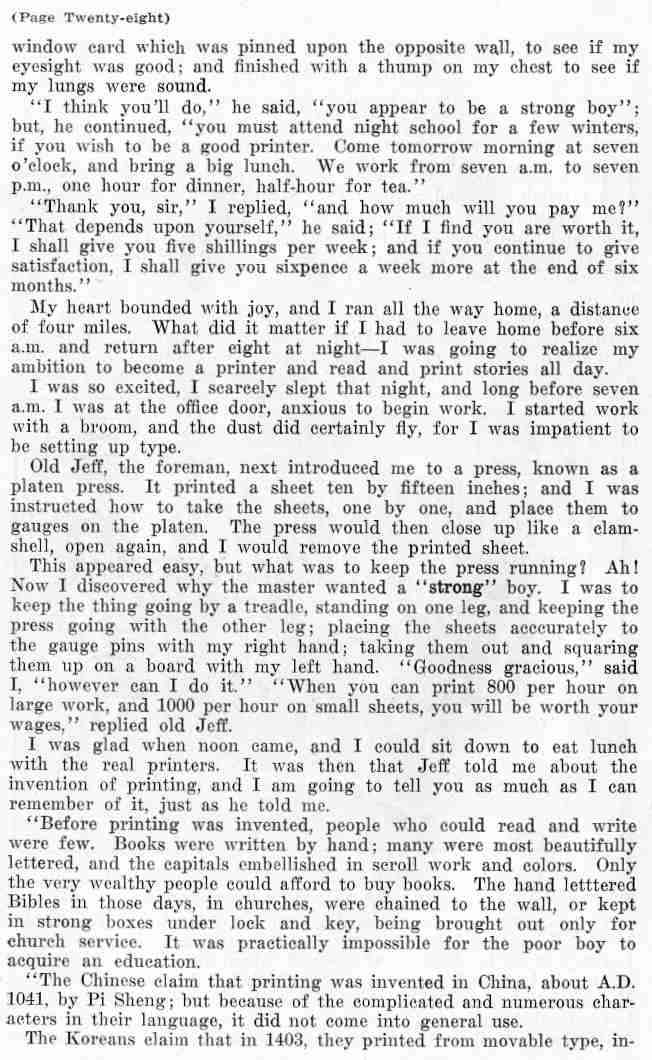 Article and illustration in March 1921 School Days magazine
Elliott contributed a photograph to the 1946 25th Anniversary issue of VANTECH, titled Foster Peak, Kootenay National Park. A history of the school Cadets noted that in 1921 "Capt. L.A. Elliott, who had joined the School staff, became assistant to Capt. Fairey, and Lieut. A.B. Maggs acted as musketry instructor. The cadets were issued with Ross Mark 1 303 rifles and khaki uniforms, with peak service caps." Later, "in the year 1924-25 platoon cups were donated by Major Fairey and by Capt. Elliott for inter-platoon competition." In 1926-27 "Capt. Elliott was promoted to Major in his Corps and was awarded a second decoration for long service."
In 1927-28 the school cadet corps numbered 465 cadets, and the group was formed into the 2nd High School Battalion, 101st. Cadet Regiment with three companies, Major Elliott second in command. In 1933 the high school cadet corps were abolished and ceased to function again until the start of World War Two. In 1940 Elliott was requested to "take command and to organize the Technical battalion." When the war ended with V-J day, the corps was again disbanded.
EXHIBITIONS
SOLO EXHIBITIONS
GROUP EXHIBITIONS

References
SCHOOL DAYS magazine, published by Vancouver School Board

VANCOUVER CITY SCHOOLS - TRUSTEES ANNUAL REPORT 1923
21st Annual Report; Published by the Board of School Trustees, City of Vancouver
132 pages illustrated; soft cover illustrated with 1915 drawing by Charles H. Scott
Complete statistics on students, attendance, buildings, teachers, courses, etc.

LINO BLOCKS: A HANDBOOK FOR STUDENT PRINTERS by L.A. Elliott
Published by Vancouver Technical School, 1934
Illustrated with student linocuts

VANTECH 1946 - TWENTY-FIFTH ANNIVERSARY
Printed by the students of the Vancouver Technical School
90 pages, stapled, illust. colour/b&w.
Includes a number of original student linocut prints.
Includes references to Elliott's participation in the Cadet Corps.

VANCOUVER CENTENNIAL BIBLIOGRAPHY by Vancouver Historical Society
1986, Compiled by Linda L. Hale; cartobibliography by Frances M. Woodward.
Four Volumes (Set ISBN 0-9692378-0-4).
Reference #4819. Elliott, L.A., Vol. 1, pg. 322

BC VITAL STATISTICS on line
Death Certificate #63-09-015516
Clippings
HOME