SIM PUBLISHING
Home Publications Artwork News Links About
---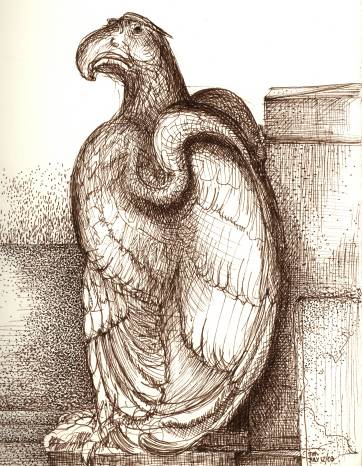 Harding Memorial (detail)
Original pen & ink drawing issued July 2003
Image size 8" high by 6" wide (200 mm by 150 mm)
(Low resolution image illustrated)
This is a drawing that I did "en pleine air" in Stanley Park, Vancouver, on a sunny summer morning. It is a detail of one of the two golden eagles that are part of the Harding Memorial, designed by sculptor Charles Marega. The sculpture celebrates American President Harding's visit to Vancouver in the mid-1920s.

It is drawn with a Nexxus pigment ink pen, on OPUS coated drawing paper, 150 gsm weight. The drawing is archivally matted with acid free 4-ply matteboard and liner, and is in a 16" x 20" OPUS metal exhibition frame.

Please refer to Artwork Price List for current price.
---
Home
Copyright 2006 - 2011