Art & Artists in Exhibition: Vancouver 1890 - 1950
George Edward Overton
1880 - May 17 1957
Winnipeg School of Art
George Overton was born in England, according to the exhibition catalogue "150 Years of Art in Manitoba" and came to Canada around 1920. He was educated in London and Paris, and employed by Duveens of London as a restorer. Once he moved to Winnipeg, the catalogue notes that his knowledge allowed him to "supply Winnipeg collectors with desirable material and so influenced collecting. He himself was a collector and also a respected painter." He taught at the Winnipeg School of Art in the late 1920s, under L.L. Fitzgerald, prior to moving to BC for health reasons.

Overton exhibited work at the Vancouver Art Gallery in the 1941 (2 watercolours) and 1943 (1 oil painting, 1 watercolour) B.C. Artists exhibitions. The artist was living in Galena, on what is now Upper Arrow Lake, south of Revelstoke.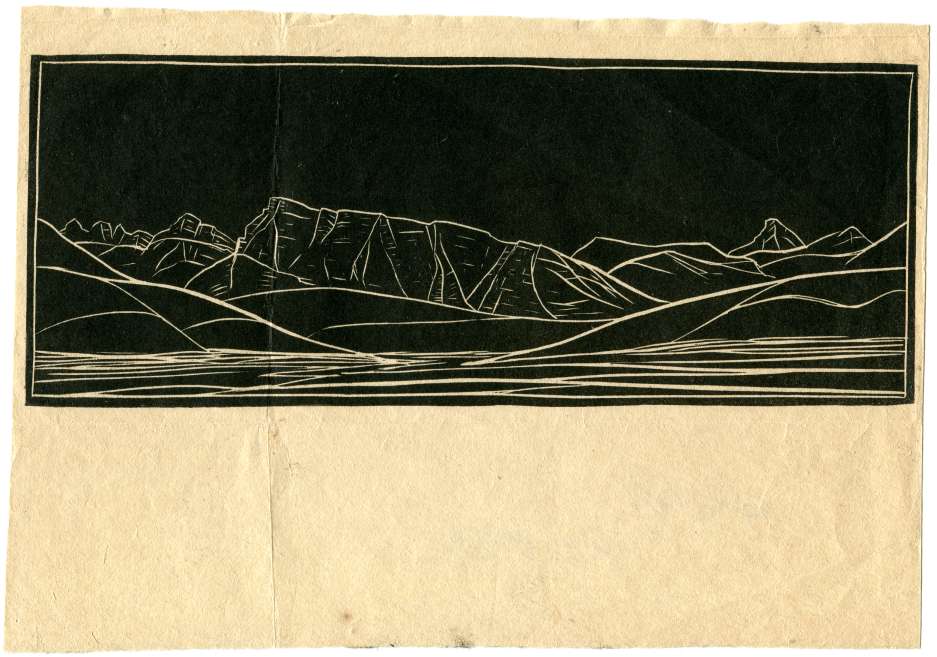 (untitled linocut greeting card)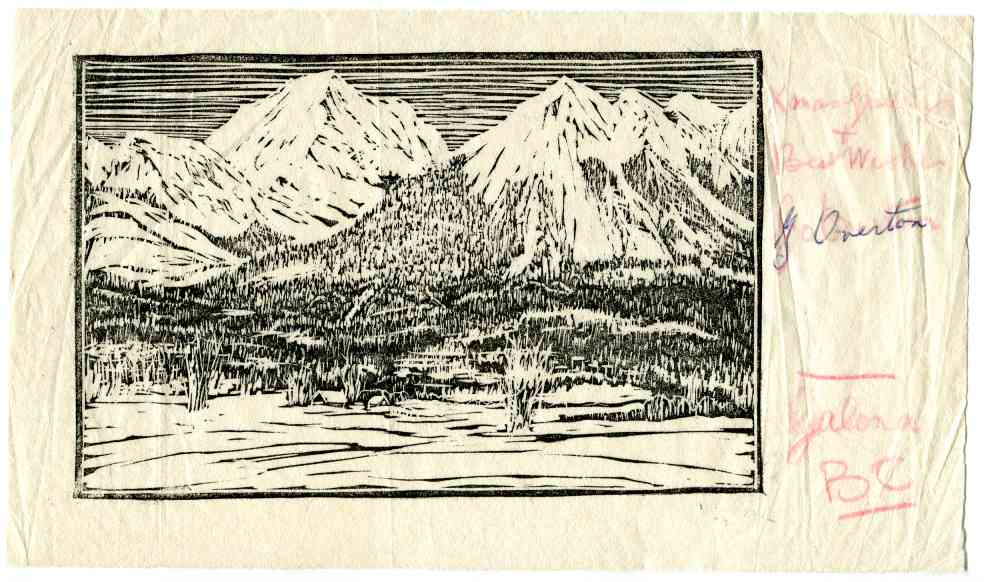 "Galena, BC" greeting card

The two images above were in a collection of artist greeting cards related to teachers at the Winnipeg School of Art, including other cards by Lionel Lemoine Fitzgerald and Alexander Musgrove.

Overton died at Tranquille in 1957, noted as a retired art teacher. Tranquille was a sanitarium west of Kamloops, where people with respiratory problems such as tuberculosis were sent to recover in the dry desert air. Overton's birthdate, place of birth, and parent information were all listed as "not known" which is quite unusual.
Exhibitions
SOLO EXHIBITIONS
GROUP EXHIBITIONS

| | | |
| --- | --- | --- |
| DATE | EXHIBITION | ARTWORK |
| | | |
| 1941 Sept. 26 - Oct. 19 | VAG B.C. Artists 10th Annual | Columbia River, Spillimacheen |
| | | Selkirk Mountains, Spillimacheen |
| 1942 Sept. 25 - Oct. 18 | VAG B.C. Artists 11th Annual | Selkirk Mountains, Spillimachene, B.C. |
| 1943 Sept. 25 - Oct. 20 | VAG B.C. Artists 12th Annual | Gus Solie |
| | | Steamboat Mountain |
References
150 YEARS OF ART IN MANITOBA, by Winnipeg Art Gallery
Published 1970 for the Manitoba Centennial, 118 pages, paperback.
Exhibition May 1 - Aug. 31, 1970 at Manitoba Legislative Building

ARTISTS IN CANADA 1982 - UNION LIST OF ARTISTS' FILES (refer to AIC82)

B.C. VITAL STATISTICS ON-LINE (refer to BCVS)
Clippings