SIM PUBLISHING
Home Publications Artwork News Links About
---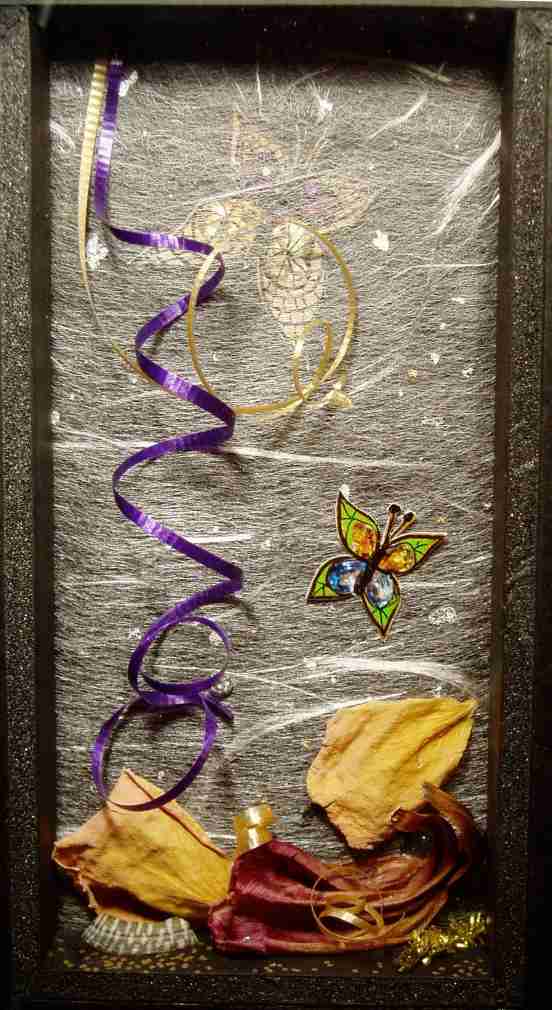 N'OUBLIETTE ONE
Original mixed media assemblage issued 1999
10" high by 8" wide (250 mm by 200 mm)
(Cropped low resolution image illustrated)
This was probably my first mixed media assemblage. It was wrung out of me at the end of a brief and stressful relationship. After we broke up, she mailed me back a package containing everything I'd given her. After mulling over the contents for a while, I decided I would encapsulate some of them into an "oubliette", the medieval word for a kind of prison that consisted of a hole in the ground with a slab of rock over it. An unfortunate prisoner would be chucked into the hole, the rock placed on top, and the prisoner forgotten about.

The image illustrated is a cropped version of the actual assemblage. Materials include foamcore, matteboard, black and gold pen & ink, sparkle wire, hand painted photographs, ribbon, japanese paper, flower petals, wrapping paper, gold stars, and shells.

Please refer to Artwork Price List for current price.
---
Home
Copyright 2007 - 2011