SIM PUBLISHING
Home Publications Artwork News Links About
---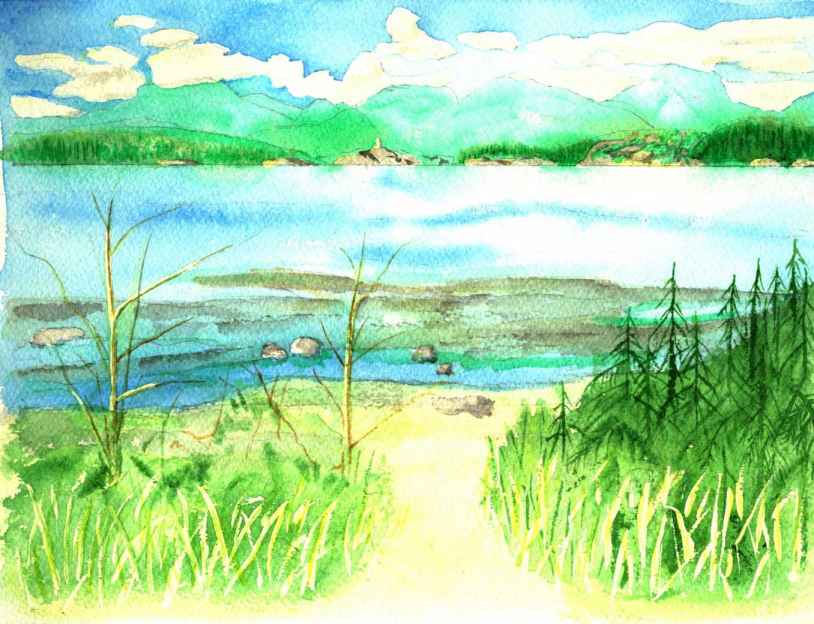 LOOKING NORTH, SAVARY ISLAND
Original watercolour painting issued 2003
Image size 7" high by 10" wide (175 mm by 250 mm)
(Low resolution image illustrated)
This is a small watercolour painting that I did based on a trip to Savary Island in 2003. The light and colour there is wonderful, and the luminous glows of a watercolour wash seemed like the best way to try and capture some scenes. This painting was done looking north from the porch of the waterfront cabin I was staying at - it has a wonderful view towards Cortes Island, Malaspina Peninsula, and the entrance to Desolation Sound.

The painting is included in an ARCHES hard-cover watercolour book, in which I kept a journal of the week long trip, alternating a diary on one page with an original watercolour or pen & ink drawing on the next. It was a fun project, and the interplay of text and image seemed to keep the ideas flowing.

Please refer to Artwork Price List for current price.
---
Home
Copyright 2013