SIM PUBLISHING
Home Publications Artwork News Links About
---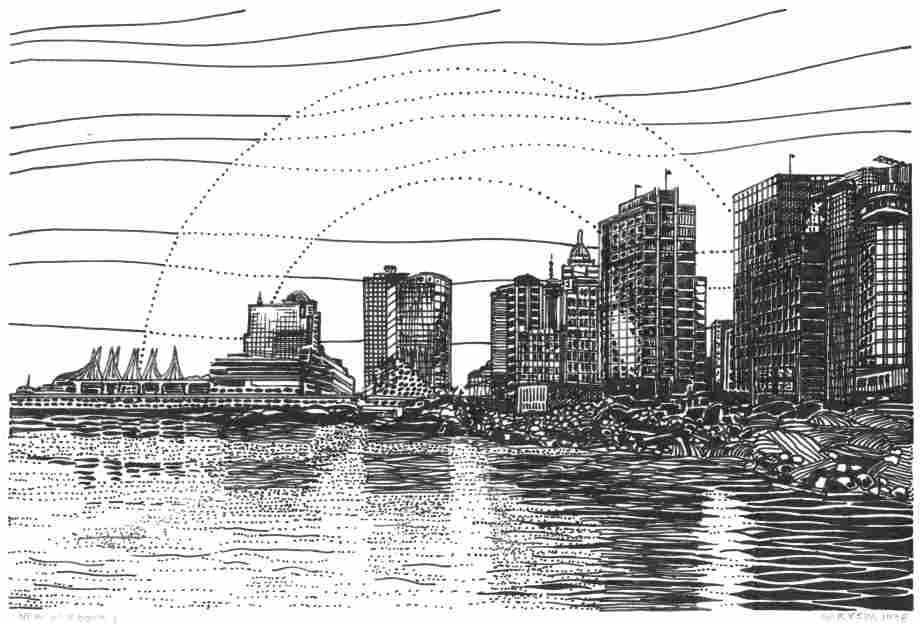 NEW HARBOUR 1
Original pen & ink drawing issued 1998
Image size 4" high by 6" wide (100 mm by 150 mm)
(Low resolution image illustrated)
This is an image drawn of the changing shoreline along the Vancouver harbour west of Burrard Street. The C.P. Rail tracks had just been removed from Cardero Street back to the CPR station at Granville Street, after over 100 years of service, and the land was being prepared for the next "layer" of development. Another block of high-rises was built here, and then another block of land was added into the harbour with another row of high rises on it, and then finally the seawall was added to that.

It is drawn with Pilot DR pigment ink pens, on Bristol board. The drawing is matted with acid free 4-ply matteboard and liner, and framed in a 9" x 12" aluminum frame.

Please refer to Artwork Price List for current price.
---
Home
Copyright 2007 - 2011