SIM PUBLISHING
Home Publications Artwork News Links About
---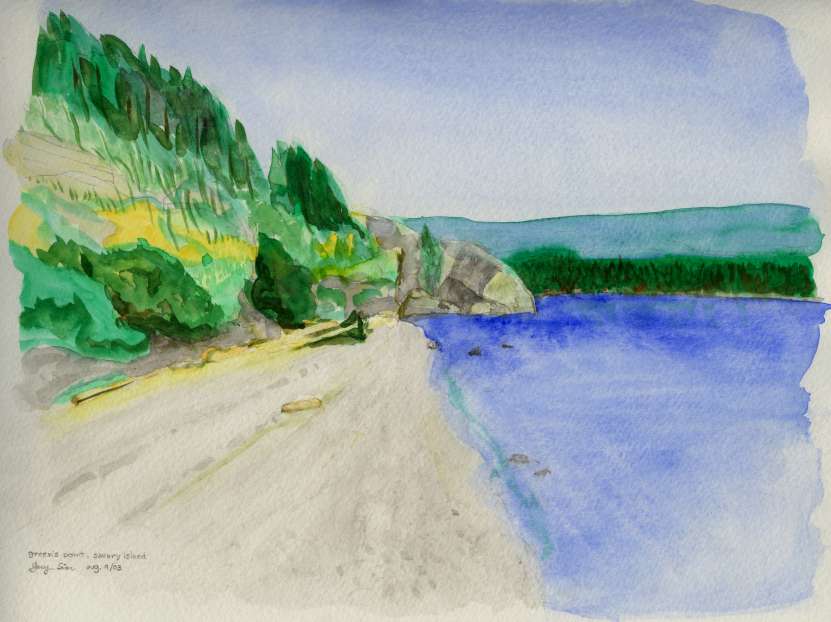 GREEN'S POINT, SAVARY ISLAND
Original watercolour painting issued 2003
Image size 8" high by 10" wide (200 mm by 250 mm)
(Low resolution image illustrated)
This is one of a small series of watercolour paintings that I did based on a trip to Savary Island in 2003. The light and colour there is wonderful, and the luminous glows of a watercolour wash seemed like the best way to try and capture some scenes. This painting is a view looking east towards what was originally called (by settlers) Green's Point, but which is now called Mace Point. The reflections of the sun off the water and the white crystalline sand were blinding, but the colours were equally intense.

The painting is archivally matted in Crescent 1607 4-ply matte, in an OPUS metal exhibition frame. The image is painted with professional watercolours on Canson Montval 300gsm cold-press acid-free watercolour paper, made in France.

Please refer to Artwork Price List for current price.
---
Home
Copyright 2013