SIM PUBLISHING
Home Publications Artwork News Links About
---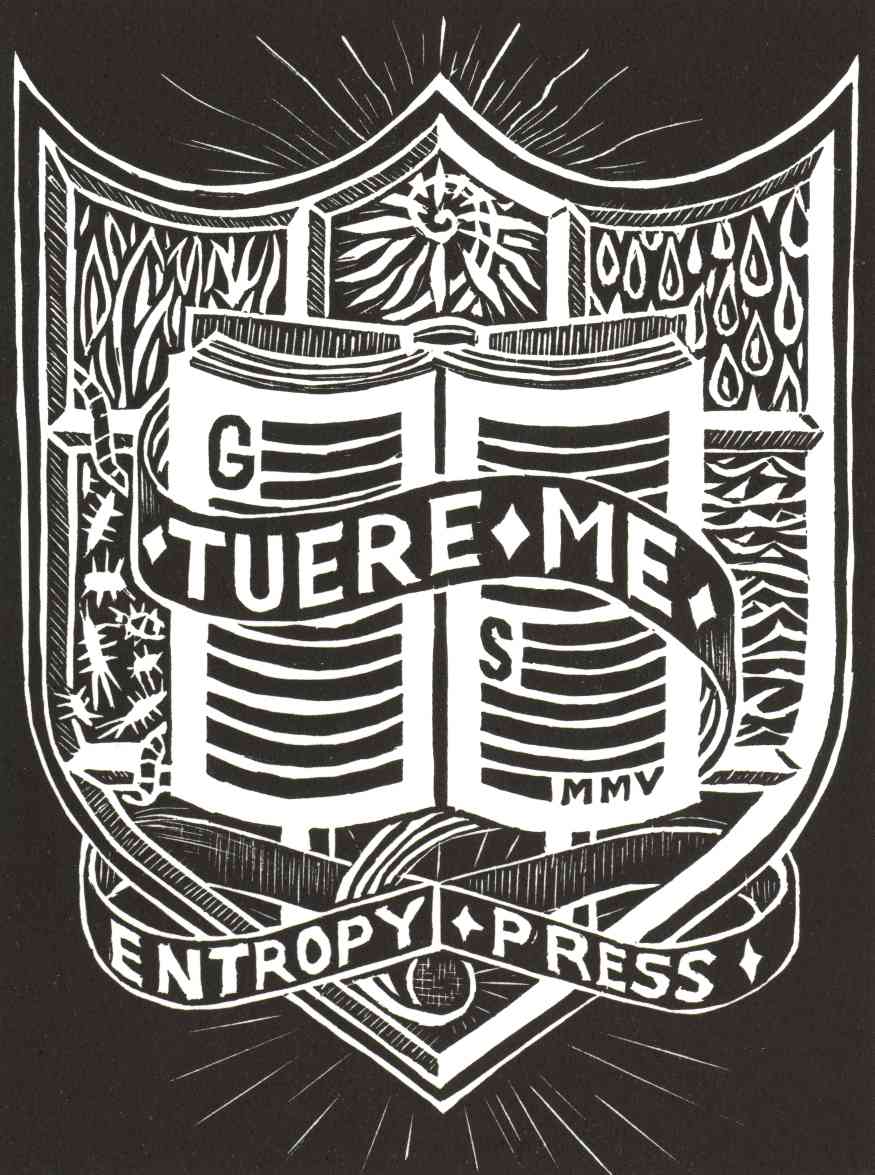 ENTROPY PRESS
Original Commissioned Limited Edition Wood Engraving issued July 2008
Image size 4" high by 3" wide (100 mm by 75 mm)
(Low resolution image illustrated)
This little wood engraving was commissioned by the Alcuin Society, as one of a series of prints that would represent a real or imaginary printer's mark. Dr. Yosef Wosk had this idea, and provided funding for the project. Four prints were commissioned in the first round, this print was tipped into Amphora 149 in July 2008, although I engraved it in 2005. They were printed by Barbarian Press in a edition of 500 prints. About 350 were issued in Amphora, the remaining prints were intended to eventually be bound into a book containing the complete series. Alas, as of November 2021, only the first four prints have been commissioned, and the book of limited edition prints may never be issued. The other commissioned artists included Michael Kluckner and Shinsuke Minegishi.

I wrote this description to accompany the tiped-in print:
"Entropy Press is the Maker & Purveyor of Fine Quality Handmade Bookes. Using the Best Archival Materials, Permanent Inks, Robust Bindings, and Custom Made Fully Sealed Water, Insect, and Fire-proof Slipcases. Our Bookes are Constructed and Encased to Eschew the Ravages of Time.
Our Printer's Marke is A Booke Rampant, Saved Harmless, Encircled with Banner of Entreatment Blazened Tuere Me ("take care of me"), Surmounting Escutcheon with Charges of Adversity on a Checky of Nine, Namely: The Sun in Chief Point & the Moon in Base Point, Fire in Dexter Chief Canton & Rain in Sinister Chief Canton, Vermin Dexter Flank, and Flood Sinister Flank; Entwined with Entropy Press on a Charge of Infinity, All Set on a Field of Black - The Universe."

Please note that this print is not available for purchase.
---
Home
Copyright 2021