SIM PUBLISHING
Home Publications Artwork News Links About
---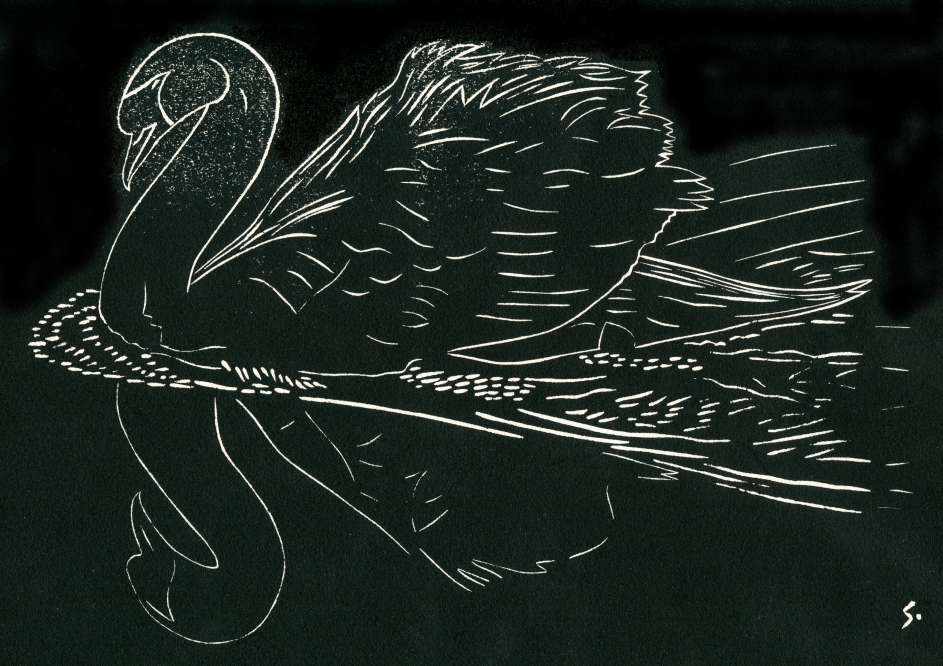 DARK SWAN
Original Limited Edition Relief Print first trial proof September 2017
Image size 6" high by 8" wide (150 mm by 200 mm)
(Low resolution TRIAL PROOF image illustrated)
This print was cut from a photograph of a Mute Swan, one of the swans that used to cruise around in Lost Lagoon, Stanley Park, Vancouver. The Vancouver Parks Board imported them from England, and clipped their wings so that they couldn't fly away. I always thought those swans looked mad, then I found out why. The crudely bobbed wingtip feathers must have been very frustrating for the swans. I believe the VPB no longer follows this practice.

The edition size and paper has not been determined. This print got to a certain state and then other things took importance. The impressions will be hand printed by the artist with Caligo Safe Wash Furnace Carbon Black relief printing ink, using an antique nipping press. All prints will be editioned, titled, signed and dated by the artist in pencil.

Currently Not For Sale.
---
Home
Copyright 2019