The Art Emporium
1897 - current
The Art Emporium was one of the earliest art and framing stores in Vancouver, opening on Georgia Street in 1897, and is certainly the longest-lasting such store in town, still going strong in 2021 on South Granville St. at 13th.
The Art Emporium advertised in the exhibition catalogue of the First Annual Exhibition of the B.C. Society of Fine Arts in 1909:

The Art Emporium
Picture Framing in Artistic Styles
901 - 905 Georgia St. Vancouver

In addition to selling artists materials. the Emporium also gave local artists a place to exhibit their work.

In 1911 Who's Who in Western Canada listed John Randall Davidson as "Art Dealer, Art Emporium, 901 Georgia St. W., Vancouver". Randall was born in Edinburgh, Scotland July 11, 1881, and came to B.C. in 1909.

J.Y. Miller (q.v.) was Proprietor from at least 1915 to 1925. In 1926 Harry Hood is listed as the Manager. He ran the store for many years, into the 1950s. He was one of Vancouver's important early artists and supporters of the arts. In 1934 the gallery's address was 1103 Robson Street.


1947 advertisement in Canadian Art

In 1960 the gallery was purchased by Torben Kristiansen, who was still active in 2019. In 2011 the Art Emporium assisted in the production of a massive reference work on Lawren S. Harris titled LAWREN HARRIS - WHERE THE UNIVERSE SINGS (see bibliography).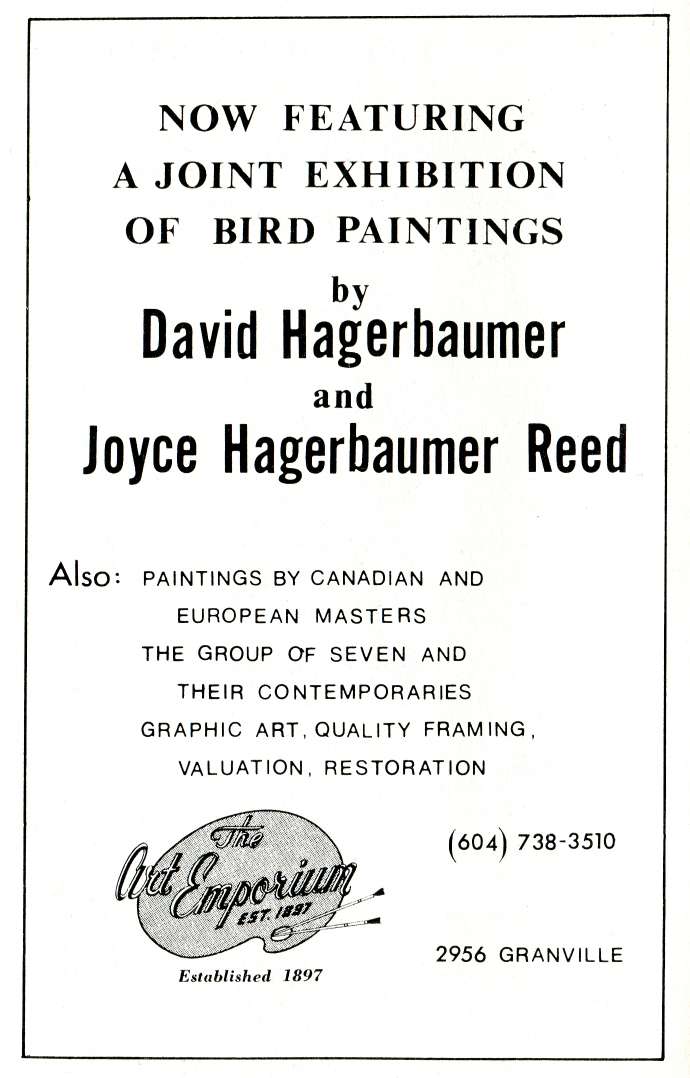 Exhibitions
References
WHO'S WHO IN WESTERN CANADA
1911; Edited by C.W. Parker
A Biographical Dictionary of Notable Living Men & Women of Western Canada
Published by Canadian Press Association Ltd., Vancouver office
Contains 3,000 biographical sketches in 390 pages, incl. 84 pages photo portraits
References include John Randall Davidson
Clippings
"A group of wood carvings by Lilias Farley now on display at Harry Hood's Art Emporium, again gives evidence of the skill of a creative local artist. (continues) ..."
From "Western Artists Capture Interest At Toronto Show" by Palette
Daily Province, November 20 1941




HOME